Politics
President Obama says he's 'bound by the constitution'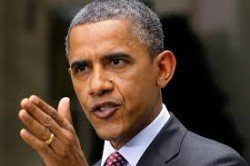 On Wednesday, President Obama hit back against those who claim that he has broken the law by going around Congress on important issues such as health care and immigration.
"I never have a green light. I'm bound by the constitution. I'm bound by separation of powers. What I can do is scour our authorities to try to make progress," said Obama at a press conference at the U.S.-Africa Business Summit.
President Obama has received much flak for his unilateral actions over the past year. He is currently facing a lawsuit brought against him by House Republicans for delaying the employer mandate in his signature healthcare law, the Affordable Care Act.
The House of Representatives recently voted to sue President Obama by a 225 to 201 margin. Five Republicans voted with Democrats in opposing the lawsuit, but that was not enough to prevent the measure from going forward.
Republicans say that the lawsuit is designed to prevent future presidential overreach and the use of unilateral actions to modify preexisting laws without any congressional input.
Now, the White House is deciding what to do to attempt to fix the immigration crisis in the wake of inaction on the part of the U.S. Senate, which is now on a five-week vacation.
Obama commented on the inaction, saying that he prefers Congress to take the reigns, but "until that happens, I'm going to have to make choices."
At the conference, President Obama was also asked about the current crisis in eastern Ukraine.
"Obama was also asked about his plan to dial down Russian aggression in Ukraine after President Vladimir Putin announced Wednesday that the Kremlin would ban certain American agricultural imports. Putin prohibited imports from the United States and other Western nations in retaliation for sanctions imposed on Russia in the wake of the downing of a passenger jet in Ukraine," reports the Washington Examiner.
The President has received criticism for his handling of Russia's newfound belligerence over the past six months. GOP leaders have blasted the president for coming off as weak when making decisions that impact the world stage.
"We don't know yet whether sanctions are working," said Obama at the conference.
He went on to say that Putin's sanctions against Western agricultural imports would only hurt the Russian economy, and would barely impact the growth of Western economies.