Politics
New poll shows that Americans overwhelmingly disapprove of Sgt. Bowe Bergdahl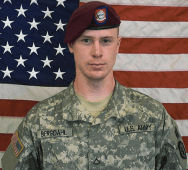 A new Rasmussen Reports poll said that 54 percent of Americans disapprove of alleged deserter Sgt. Bowe Bergdahl, while only 24 percent of Americans approve of him. The poll also found that 54 percent of Americans disagree with the Obama administration's decision to trade Bergdahl for five Taliban commanders.
On top of these new metrics, Rasmussen Reports also found that 57 percent of Americans believe that President Obama should have notified Congress prior to the exchange taking place.
"And the poll shows that the administration can give up any thoughts that Americans aren't paying attention to the story. A remarkable 80 percent are paying attention to the story and only 4 percent aren't following it 'at all,'" reports the Washington Examiner.
These numbers spell bad news for the Obama administration, as the White House has struggled to show that it can competently handle foreign policy matters.
Many on both sides of the political isle have questioned the wisdom surrounding the president's deal in which he traded five Guantanamo detainees for Bergdahl. The detainees will be sent to Qatar for a year for monitoring purposes.
After that, the Taliban commanders will most likely end up back in the fold of their nefarious organization. The White House has noted that four out of five of the commanders will likely rejoin their allies in the Taliban.
Bergdahl's unpopular image stems from consistent reports that say that he walked off of his post. Many see his capture by the Taliban a result of his desertion.
This new poll is indicative of a larger problem facing President Obama and the Democratic Party going into this year's midterm elections. Democrats are facing an uphill battle this November, and missteps on the part of the president will only hinder his party's chances of holding onto the Senate.
Some see the Bergdahl trade as nothing more than an attempt by the White House to distract voters away from the VA scandal, but if this theory is true, the trade proved to be a major political miscalculation.
The public's increasing dissatisfaction with the Bergdahl trade has the ability to seriously damage the president's credibility with voters.
Regardless of the outcry over the transfer, the Obama administration has held firm on its position that it made the right decision, arguing that the deal was necessary because Bergdahl's health was rapidly declining while he was held captive.