Companies
Mitsubishi i-MiEV is 100,000 electric vehicle sold in US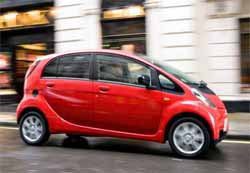 The sale of electric cars, which have been touted as a green alternative to traditional gas vehicles by the Obama administration reached an important milestone recently with the sale of over 100,000 vehicles, the automobile that achieve that distinction was the Mitsubishi i-MiEV.
The distinction is interesting when one considers that the Mitsubishi i-MiEV takes nearly a full day to recharge its battery on a standard electrical outlet and even after fully charged can only travel 62 miles before needing recharging.
While this may give cause for some to criticize the electric car market, the significance of US dealers selling 100,000 electric cars cannot be overstated when one considers how new the technology is.
The Mitsubishi i-MiEV was awarded the distinction by Plug In America, an EV advocacy group, which  crunched the numbers for a contest called #PIA100K, to find the lucky buyer, who would be given a ClipperCreek Level 2 charger (which takes the i-MiEV's recharge time down to just seven hours).
Plug In America noted the 100,000 milestone resulted since the introduction of the latest generation of highway-capable plug-in vehicles some two years ago, making it an even more impressive feat.
The winner of the contest was Rich Salmon of Grand Bay, Alabama, picked up his i-MiEV from Pete Moore Mitsubishi.
I was interested in an EV, but I was still on the fence about them," said Mr. Salmon. "But I took the Mitsubishi i-MiEV for a test drive and I liked it, so I bought it."
In a statement issued by Mitsubishi it noted the car was purchased from Pete Moore Mitsubishi in Pensacola, Florida and that Mr. Salmon is very pleased with his Mitsubishi i-MiEV so much so that the local community center he works with is now looking at acquiring an i-MiEV to use as delivery vehicle for their "Meals on Wheels" program to take advantage of its very low cost of "refueling."
"We congratulate Rich Salmon of Grand Bay, Alabama, on winning Plug In America's #PIA100K contest," said Yoichi Yokozawa, President and CEO of Mitsubishi Motors North America, Inc. (MMNA). "We'd also like to thank him for buying our all-electric Mitsubishi i-MiEV. With more than 30,000 i-MiEVs and their related vehicles logging countless safe and trouble-free miles on the roads in such dynamic locales as Southeast Asia, Europe, Japan and North America, Mr. Salmon is in good company."
With a net value as low as $21,625*, the fun-to-drive Mitsubishi i-MiEV all-electric 5-door achieves a remarkable EPA-rated 112 MPGe (miles per gallon equivalent) combined/126 MPGe city/99 MPGe highway and has an EPA estimated "real world" driving range of 62 miles (45% highway/55% city driving mix) and 98 miles (EPA LA4 range – mostly stop & go/city driving).