Politics
How U.S. intelligence spy claims are affecting their relation with European Union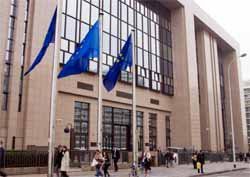 U.S. has been suspected to carry out secret surveillance programs over the European Union. The European Union has threatened to carry out investigations and put sanctions to the U.S. if found guilty of installing covert listening devices in European Union offices.
A number of European officials from France, Italy, Germany, Luxembourg and the European Union government have said that if the allegations are true, the ongoing talks on a Trans-Atlantic trade will be jeopardized. These negotiations according to officials are expected to lead to the establishment of a trans-Atlantic trade which will lead to creation of many jobs and boost trade by billions in the region. The U.S. has said that it will discuss with EU officials on the spying allegations which were reported on the Germany news weekly media.
European Union's Deputy Prime minister, Jean Asselborn has expressed the need of re-establishing an immediate confidence between the U.S. and the European Union.
The allegations are far reaching as The Guardian newspaper of Britain has cited evidence that American Intelligence targets 38 partners which include Japan, South Korea, Italy France and Greece. American intelligence has however stated that the information it gathers in foreign states is just general information gathered by any country. The U.S. has stated that the information it gathers is aimed at protecting the nation from potential attacks from other countries.
In other reported cases, China has been alleged to use cyber spying to gather sensitive information from other nations in order to use it to boost their economy. The U.S. has accused China of developing a network technology to spy on other nations. Cases of suspected Chinese computer intrusion have been reported in UK, Netherlands, U.S. India Germany, France and Australia.
These reported cases have made trade partners lose confidence with each other and which has threatened business ties between the nations.