Politics
Hillary Clinton will not announce presidential run before the end of the year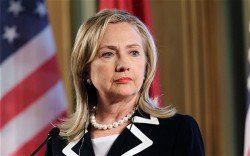 In an interview with ABC World News anchor Diane Sawyer, former Secretary of State and First Lady, Hillary Clinton, said that she would not make an announcement regarding a 2016 presidential bid before the end of the year. She said that she would wait until after the midterm elections after she has had some time to weigh the pros and cons of running.
"You know, I'm going to decide when it feels right for me to decide," said Clinton.
"People can choose whatever they choose to do on whatever timetable they decide. I just don't think that's a real concern," continued Clinton.
Sawyer asked Clinton if she thought that her own party was "frozen" in anticipation of an announcement regarding her presidential bid.
The Washington Examiner reports, "Clinton's status as the frontrunner to be the 2016 Democratic presidential nominee is underlined by a Washington Post-ABC News poll highlighted on the show. Most of the respondents- 59 percent- approved of Clinton's job as secretary of state, and 69 percent of Democrats and Democratic-leaning independents said they would vote for Clinton if the Democratic presidential primary were held today. That gives Clinton an enormous lead over Vice President Joe Biden, who came in second in that poll with 12 percent."
Should Clinton decide to run for president in 2016, it would be all but certain that she would receive her party's nomination.
The only two factors that would weigh heavily against a Clinton presidential run is her tenuous health status and her mishandling of the 2012 terrorist attack on the U.S. embassy in Benghazi, Libya.
Half of respondents in the Washington Post-ABC poll disapprove of how Clinton handled the Sept 11th attacks on the Benghazi consulate. The whole Benghazi scandal is unfolding as time goes on, and Clinton very well may become caught up  in a public relations nightmare as more information comes out of research conducted by a House special committee.
Even with these two things hanging over Clinton's head, she is still in a strong position come 2016.
She would easily sweep her party's nomination and has a distinct advantage over any candidate the Republican Party could possibly run against her. While Clinton said that she would not make a decision about running before the end of the year, the relative ease at which she would get elected should she decide to run must prove to be alluring to the former Secretary of State.