Markets
Google Inc (GOOG) Enters Hotel-Booking Business
Google Inc (NASDAQ:GOOG) GOOG +1.03%'s latest move will surely disappoint some of its biggest advertisers. The search engine giant will now play a bigger role in booking hotel rooms. Bloomberg reported that Google Inc (NASDAQ:GOOG) GOOG +1.03% has licensed the hotel-booking software from Room 77 Inc., which is backed by Expedia Inc (NASDAQ:EXPE) EXPE +3.70%. As a result, many of Room 77's engineers will join the Mountain View-based company's hotel search team.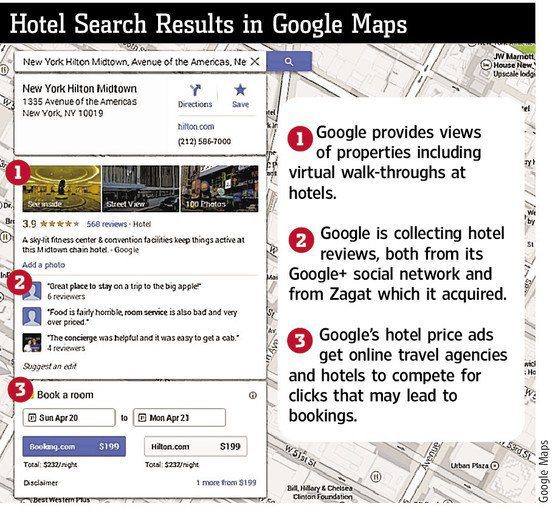 Google Inc (NASDAQ:GOOG) GOOG +1.03% will add more reviews and photos to its hotel listings to make sure that its listings are on-par with travel search sites like Expedia Inc (NASDAQ:EXPE) EXPE +3.70%, Priceline Group Inc (NASDAQ:PCLN) PCLN +1.71%, and TripAdvisor Inc (NASDAQ:TRIP) TRIP +0.40%. The Internet giant is aggressively promoting its 'hotel-price ads' that show room rates directly on the search page.
The company wants more travelers to plan their trips directly from its website. It will encourage more hotels to place ads on Google Inc (NASDAQ:GOOG), bypassing the travel agencies that charge a 25% commission. The market has a huge potential. According to the World Travel & Tourism Council, the U.S. travel spending stood at $450 billion last year.
Google Inc's aggressiveness in hotel search business is part of a broader push. The company is planning to put more information on its own pages along with links to other sites. That's crucial as users increasingly search for hotels on their smartphones with limited bandwidth and smaller screens. The hotel listings are similar to the company's product listing ads for online shoppers.
Google Inc (NASDAQ:GOOG) acquired ITA Software for $700 million in 2011. But it has been slow to revamp travel search results. ITA Software provides flight information, and offers a service called Hotel Finder, which scans room availability and prices from online travel agents. But Google Inc (NASDAQ:GOOG) has taken a big leap with its latest licensing deal with Room 77.
However, the move could prove risky. Though Google Inc has more than a million advertising customers, its biggest customers are online travel agencies. RBC Capital Markets analyst Mark Mahaney estimates that Expedia Inc (NASDAQ:EXPE) will spend about $1 billion on Google Inc ads this year to attract hotel bookings. Priceline Group Inc (NASDAQ:PCLN) has a much bigger budget of $1.5 billion in 2014. These two travel agencies alone make up more than 5% of Google Inc's advertising revenue. Now the company is trying to challenge them.
Class-A shares of Google Inc (NASDAQ:GOOG) GOOG +1.03% inched up 0.27% to $559 in pre-market trading Wednesday.