Business
BB&T loses $772 million dispute with the IRS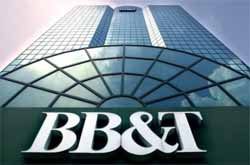 A dispute between BB&T Corp and the Internal Revenue Service was resolved in federal court on Friday with BB&T being told it will not receive a tax refund of $772 million regarding a transaction that the judge referred to as "an economically meaningless tax shelter."
The ruling could impact other banks that have similar disputes, according to experts. BB&T's unit that operates as Salem Financial was fighting for a tax refund that would have been related to a business deal that it alleged was designed to advance its core business. However, the U.S. Court of Federal Claims presiding judge did not concur.
In a 67-page decision, Judge Thomas Wheeler said, "The weight of the evidence shows that tax avoidance was singularly and precisely the goal pursued in execution of the STARS transaction. For the foregoing reasons, the Court finds that Plaintiff (BB&T) was engaged in an economically meaningless tax shelter."
STARS is a shortened version of structured trust advantaged repackaged securities. The IRS has accused multiple banks of generating artificial foreign tax credits through STARS during a 10-year period that fell between 1996 and 2006 with the help of Barclays Plc., a UK bank. However, Barclays has not been a party in any of the STARS cases. Accounting firm KPMG LLP and law firm Sidley Austin LLP were said to have been involved in facilitating the BB&T STARS deal, but they were not parties in the court case.
The IRS awards foreign tax credits to U.S. companies to make sure they are not subjected to paying taxes twice on the same profits, by a foreign government and by the U.S. government. BB&T had been fighting receive the $772 million refund from the IRS for the tax shelter. Wheeler has indicated that the final dollar amount in the dispute will have to be confirmed by the IRS and the bank.
This past February, Bank of New York Mellon lost its STARS case in a federal tax court. The bank said it is appealing the decision. Two other banks, Wells Fargo and Santander Holdings, are both challenging the IRS, however, in separate disputes.
Late Friday, BB&T issued a statement indicating it was reviewing the court decision and would evaluate all of its legal options. For the current quarter, the firm expects to post a related charge of $250 million after-tax, but it should remain profitable.
"We are surprised and very disappointed with the court's ruling and continue to firmly believe that this was a legitimate financing transaction," BB&T Chairman and Chief Executive Officer Kelly King said.