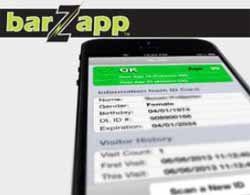 A new smartphone app is now available to help determine the authenticity of typical government issued IDs in the US. Intellicheck Mobilisa has introduced BarZapp to easily and instantly spot fake identification cards through the information those IDs contain.
BarZapp should be downloaded and installed in any Apple Inc device (iPhone, iPad, or iPod touch). To use the app, simply point the Apple device camera into the bar code that appears on the ID to determine if it is a fake or an altered card.
In an instant, the app delivers important personal information for verification purposes. Among those data are the birthdate, the height, the weight, expiration date of the card, and even physical descriptions like hair and eye color. It is also possible to look at a person's available history based on information provided through barcodes.
Spotting fake IDs
The maker of the app admits that this new software may not spot all fake IDs, but it has already caught a lot. According to some insiders, many fake IDs come from China and are sold to users for about $200 to $300. BarZapp promises to try its best to identify fake IDs based on the authenticity and accuracy of the bar codes.
BarZapp even stores numerous ID data on the device. Thus, bars could prove whether or not those scan an ID. The app even store images of what real IDs from different states or countries must look like.
This new app may not be the first of its kind but its developer has ensured that it is simply more superior to all its competitors. That is because it could accurately scan licenses and military IDs from all states and even Canadian provinces. In 2009, the company that made it was even sued for allegedly taking a monopoly in the market for drivers' license validation.
iOS and Android
BarZapp is now downloadable through Apple Store iTunes. It is available at an introductory price of just $1.99, which allows just 10 scans each day for a month. Businesses that need to use it many times in a day should download the version worth $19.95 for unlimited number of scans in a month.
The app has been loaded for about 1,000 times so far. Intellicheck Mobilisa is currently developing the version of BarZapp for Android. It hopes to launch the Android app soon. This new app could soon be widely available in all operating system and smartphones.