Markets
Ballard Power (BLDP) Secured a Contract to Supply New Flyer for Fuel Cell Buses
Ballard Power Systems Inc. (USA) (NASDAQ: BLDP) [stockdata ticker="BLDP"] announced last week that it has secured a deal with New Flyer Industries, Inc to supply power modules for new buses that will run on fuel cells. Ballard Power is one of the prominent U.S.-based companies involved in the design, development, manufacture, sale, and service of fuel cell products for a variety of applications. On the other hand, New Flyer is the company behind heavy duty transit buses.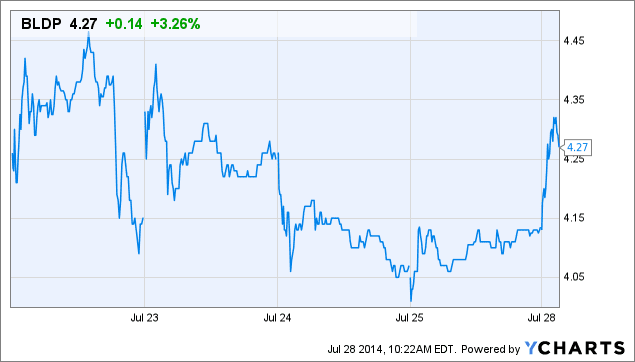 The stocks of fuel cell companies are rallying this week amid the news that General Electric (NYSE:GE) [stockdata ticker="GE"] was about to construct a fuel cell manufacturing facility.
Ballard Power's new next generation fuel cell module, the FCvelocity®-HD6, will be used power the New Flyer buses. Industry experts say that the new generation of fuel cell module is much easier to handle and that the installation procedure is simpler, lowering the cost of integration for New Flyer. Ballard Power is scheduled to deliver the modules by the end of 2014, and the buses are likely to hit the road in early next year. These buses are about to be run under the new U.S. Federal Transit Authority National Fuel Cell Bus Program initiative.
Prior to securing the deal with New Flyer, Ballard Power had worked with some of the world's largest bus manufacturers. For example, Van Hool NV, one of the largest bus manufacturer in Europe, took delivery of four fuel cell powered buses from Ballard just in April 2014.
As a result of the new contract, Ballard Power's (NASDAQ:BLDP) [stockdata ticker="BLDP"] market capitalization increased by 3.61 percent since July 24, as the price of its stock increased from $4.15 per share to $4.30 per share.
Over the last year, Ballard Power's revenue has declined by 17.7 percent to $13.99 million. Back in January 2014, its quarterly revenue was above $17 million. The latest deal with New Flyer will certainly help the company to generate considerable revenue over the next two quarters, and the sudden increase in its stock price is a testament that investors are being optimistic about the company.