Companies
Amazon improves upon Webvan to create grocery business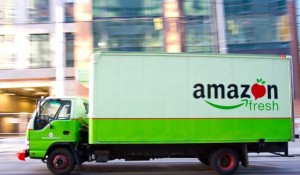 After staying in business for just 3 years, online grocery start-up Webvan had had to shut its doors. Now, though, Webvan is back again, with a new name and managing officials. Webvan is now open to consumers in the form of AmazonFresh.
Former Webvan officials,  Doug Herrington, Peter Ham, Mick Mountz and Mark Mastandrea, are now part of the Amazon team, and over the last few years, have tried to establish what led to Webvan's failure, and remedy the problems faced by the start-up.
In a large acquisition, worth $775 million, Amazon bought Kiva Systems last year. This company, operating in the field of robotics, was founded upon ideas and technologies that came from Webvan. Kiva Systems is an integral part of the AmazonFresh plan. Webvan.com, the former home of the online grocery store, is also owned by Amazon currently.
As of now, Amazon has not released any official statement regarding Webvan and its transformation into AmazonFresh, and has not had any AmazonFresh senior officials talk to the press about the same.
The online grocery shopping business has much potential in the United States. Of the $568 billion that were brought in by the grocery business last year, only close to 1 percent was from online sales. Amazon hopes to tap into this market which has largely been neglected till now.
To ensure that this advent into the online grocery business is a success, Amazon has learnt some valuable lessons from Webvan, say former Webvan official who are now at Amazon. For one, AmazonFresh will expand slowly – Webvan had made the fatal mistake of expanding into new areas even when its services were not streamlined in one – and limit delivery options to areas where a large number of potential customers live. Emphasis on warehousing efficiency is also part of the AmazonFresh strategy.
However, what with aggressive expansion on the part of rival stores like Walmart, the road ahead is not easy for AmazonFresh. Further, the grocery business is one that has very low profit margins. It should also be considered that a number of online grocery shopping portals have emerged recently. Prominent among these are FreshDirect and Peapod, which have been operating for a number of years now.
As of now, AmazonFresh only delivers produce in the Seattle and Los Angeles areas, with operations starting in Los Angeles beginning June 10 this year. However, if all goes according to plan, Amazon will eye at least 20 new markets for the year 2014.