Technology
Wikipedia Launches Mobile Editing Feature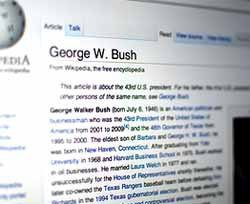 Wikimedia Foundation has introduced a new mobile editing feature that is integrated within Wikipedia, its free online encyclopedia. This new feature would allow any contributor to quickly and easily update any Wikipedia page even if he/she is on the go.
This initiative is part of efforts for mobile integration, which would most likely streamline the current editing process for its numerous users. Now, users could contribute to make Wikipedia and its sister projects accurate and updated.
Mobile editing
Before the mobile editing feature was rolled out, users and contributors were given the authority to edit entries while they are working on their desktop PCs. However, in a study of its users, it was determined that over 15% of Wikipedia users access the Website using their mobile devices like smartphones and tablets.
Wikimedia quickly assumed the 'disconnect.' Thus, it acted to enable just about any user contribute to Wikipedia, which it considers as the 'sum of human knowledge.' Now, anyone who is checking out information from Wikipedia who suddenly notices small errors could make corrections and updates even while he is on the go. Just as long as he is connected to the Internet, he could edit Wikipedia pages, no matter if he is using a mobile device.
The trial version of this mobile editing feature was launched earlier this year. It was rolled out as an experimental beta site. Wikimedia has recently launched the first public release of the service for all its users. It said the feature would undergo continuous improvements as it goes on.
Initial version
The first version of the new mobile editor could be used through a Wikipedia account specifically for trial purposes. After logging into the account, a user could just click the pencil icon located under the page title. It would initiate the interface to enable the user to start making changes to entries. The version has been made simpler compared to its desktop counterpart to make sure it would work on more devices.
Wikimedia hopes the first version of the mobile editing feature would help it make editing for Wikipedia a fast and intuitive experience for both experienced editors and new users alike. The markup editing style could be retained to observe the users' needs as well as expectations for the service. From this version, the developers would pick up more ideas on how to create more advanced features, including a Visual Editor, in the future.