Politics
Voters say that the media will help Hillary Clinton over the GOP in 2016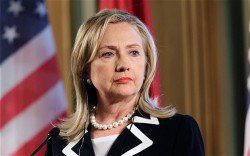 A newly released Rasmussen Reports Survey has revealed that 41 percent of voters believe that reporters will "try to help her [Hillary Clinton]" come the 2016 general election. Only 13 percent responded that the media will "try to help her Republican opponent." Unsurprisingly enough, a mere 22 percent of respondents said that the media would be unbiased in a presidential race involving Clinton.
Men, Republicans, and Conservatives were the most pessimistic about the objectivity of the press should Clinton be the Democratic nominee in 2016. 47 percent of men, 64 percent of Republicans, and 68 percent of conservatives responded that the press would have a pro-Clinton slant in 2016.
These findings by Rasmussen are expected, as many believe that the mainstream media has a distinct left-wing bias. The more than three-to-one margin of voters who believe that the media will help Hillary Clinton as opposed to her Republican opponent displays the disillusionment that many have with the current state of political reporting in America.
The poll conducted by Rasmussen also measured a few other metrics regarding Hillary Clinton's future prospects in the political realm.
81 percent of voters polled by Rasmussen expect Clinton to be the Democratic nominee should she decide to run. When broken down by party lines, 91 percent of self identified Democrats responded that they expect Clinton to be their party's candidate.
Hillary Clinton's favorability ratings have dropped since her tenure as Secretary of State. 51 percent of voters have a somewhat favorable opinion of Clinton, while 44 percent view her unfavorably.
The poll also gauged Bill Clinton's impact on his wife's potential presidential bid. 54 percent of voters believe that Bill Clinton will have a positive impact on Hillary's chances in 2016.
Should she decide to run, Hillary Clinton is apparently in a good position, as she is the overwhelming favorite to receive her party's nomination, and she has a favorability rating that is above water.
At the current time, Clinton has a polling advantage over a large number of potential Republican challengers as well. It seems as if 2016 will be a perfect storm for Clinton, as she can easily sweep her party's nomination and move forward into the general election with an advantage over almost any candidate that the Republican Party could possibly run against her.
The survey was conducted by Rasmussen on April 13-14, and it polled 1,000 likely voters. The margin of error was plus or minus three percentage points with a 95 percent level of confidence.