Technology
Upcoming Xbox One update includes activity feed changes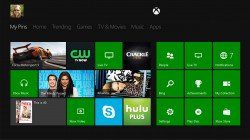 Microsoft is continuing to update the Xbox One in its monthly update plans. This month is mostly about social interactivity on the console with a revamped design on the activity feed, changes to the friends area on the home-screen, mobile purchases through SmartGlass, and other minor changes.
The biggest change is on the activity fee. Compared to the previous version, the new Xbox One activity feed offers more social integration and offers a lot of different updates on friends, including gameplay, what they watched on Netflix, and social updates.
Users can like and comment on friends updates and it feels like a social network for gamers. The design of the activity feed has shifted to a one-column feed, and users can open up an update and check out photos, text, and video from other players.
The second big change is expanding the friends room on the home-screen. This allows users to stay up to date with friends' activity from the home-screen instead of checking out the activity feed, and it gives small bytes of information to the user.
Mobile payments might be a big feature for people who hear about a game at work or on the road but forget about it by the time they are home. Users can now buy the game through the SmartGlass app or on Xbox.com, and users will instantly get it on their Xbox One console.
Other changes include a notification when battery is low. When it gets below 10 percent, the notification will alert users and tell them to swap the battery. Notifications can also be disabled while watching videos.
3D Blu-Ray support is available on the Xbox One in the coming update. OneGuide has been added in Brazil, Mexico, Austria, and Ireland. Last seen online will be added, allowing users to check when a friend was last online.