Politics
U.S. pushing for peace in Gaza conflict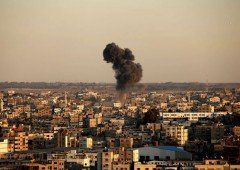 On Wednesday, the U.S. government announced that progress has been made in peace talks between the Israeli government and Hamas, a terrorist organization that is pushing for Palestinian self-determination. So far, over 700 Palestinians and 34 Israelis have died in the newest military surge in the Gaza strip.
"Underscoring the challenges facing international negotiators shuttling around the Middle East in a high-profile bid to end the bloodshed, the leader of Hamas insisted the Islamic militants would not relent until their main demand of lifting an Egyptian-Israeli blockade of the Gaza Strip is met," reports the Washington Examiner.
The fighting started after Hamas began firing thousands of missiles into Israeli territory. The Israeli military also found Hamas militants attempting to cross into Israel via a system of tunnels.
While the newest round of fighting between Hamas and Israel has hit the Palestinian people hard, the blame lay upon Hamas. Hamas has strategically placed missile launchers and other military weaponry in places that Palestinians frequent, such as schools and hospitals.
When Israel retaliates against Hamas-led aggression, Palestinian civilians get caught in the crossfire. The Israeli military has taken steps to lessen the impact on the Palestinian people, but the morally repugnant strategy on the part of Hamas in using Palestinian civilians as human shields has proven effective, as the Israeli government has been criticized for killing said civilians.
"We certainly have made steps forward. There's still work to be done," said Secretary of State John Kerry in regard to the negotiations process between Israel and Hamas.
Hamas has ruled the Gaza strip since taking power in 2007.
"When it comes to the balance of power in this crisis between us and Israel, they are the executioners, the aggressors, the occupiers, the settlers, and we are the true owners of the land. We will not accept anything but the end of the siege," said Hamas leader Khaled Mashaal, unable to grasp the concept that the current military offensive on the part of Israel is nothing but a response to actions carried out by Hamas.
White House deputy national security advisor Tony Blinken said that Hamas should have its military capabilities stemmed so that it would not have the ability to "rain down rockets on Israeli civilians."
"One of the results, one would hope, of a cease-fire would be some form of demilitarization so that this doesn't continue, doesn't repeat itself. That needs to be the end result," said Blinken in an interview with NPR.