Markets
The Prospects of Large Screen Phone Market Looks Good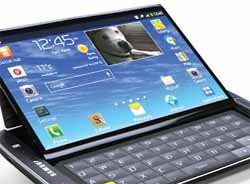 The larger smart phones with screen size above 5.5 inches but below 7 inches are expected to take over the majority of sales in coming years. These larger than typical smart phones are said to be a mix of phones and tablets in features. Hence, the term Phablet is often used to define this class of mid-size devices. A recent study of sales trends shows that the Phablet market is set to expand as much as 600 percent by the year 2018, as annual shipments are forecasted to reach 120 million units from 20 million in 2013.
These oversized devices fit perfectly in the device category to consume video content on the go. This is because at 5.5 inches, it is large enough for viewing content and at the same time small enough to fit in regular pockets. In fact, Phablet users are considered as the key drivers of the mobile video entertainment segment's growth.
Management consulting firm Accenture recently commissioned a digital consumer survey in 23 countries. The result of the survey indicated that 67 percent consumers in India would prefer a Phablet compared to smaller screen sized smart phones. In China, this figure is over 66 percent and in South Africa, it is over 65 percent. India, China, and South Africa are members of the BRICS, a group of emerging economies. It is safe to say that over 65 percent of consumers in developing countries are looking to buy a Phablet in the coming years. Users clearly prefer "consumption devices" rather than traditional portable computing devices like PCs and Laptops for content creation.
It is not a surprise that most of the world's phablets are manufactured by Asian companies like Samsung and numerous other companies like Gionee in China and Micromax in India.
However, in recent months, Nokia (NYSE:NOK) NOK +0.92% and Sony (NYSE:SNE) SNE +0.71% has released several smart phones that fit the Phablet definition. In fact, the popularity of Phablets is probably one of the reasons why Apple (NASDAQ:AAPL) is about to release is next iPhone, the iPhone 6 with a larger screen size compared to previous versions. Apple enthusiasts are already calling it "iPhablet."
The Accenture survey clearly shows that any company who is not going to compete in the Phablet market will certainly face a tough time in terms of capturing emerging markets.