Politics
Tennessee Volkswagen AG workers votes against unionization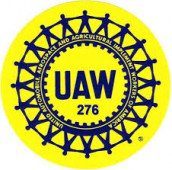 Volkswagen AG workers recently voted against union representation at a Chattanooga Tennessee factory. This vote marks the long decline of the United Auto Workers union, and almost certainly means the end of the UAW's best chance to expand in the South.
The vote to unionize failed 712 to 626. This is certainly a stinging defeat for organized labor efforts in the South, as UAW spent the last two years organizing leading up to this election.
Republican U.S. Senator Bob Corker stated that he was "thrilled" with the voting results. Corker is the former mayor of Chattanooga, and he was one of the major players in bringing the VW plant to the town in the first place.
Corker said that VW will expand operations at the plant because the UAW efforts were thwarted. In fact, Corker had been openly saying that business would expand at the VW plant should the UAW lose the vote.
The UAW said that it will "evaluate" the voting process to see if there was any foul play present during the process. It is unlikely that any challenge from UAW would be successful though, as legal experts have already ruled out the possibility.
The UAW is understandably upset about this embarrassing defeat, and the organization is attempting to blame the loss on people such as Corker.
"We are outraged at the outside interference in this election. It's never happened in this country before that a U.S. senator, governor, a leader of the house, a leader of the legislature here threatened the company with those incentives, threatened workers with the loss of product," said Bob King, UAW president, in a statement following the election.
Since 1979 UAW membership has dropped 75%, and it now sits at a dismal 400,000 people in total.
This defeat will only compound the problems facing the UAW, as it is almost impossible for the failing union to make inroads into the South now. Membership is almost sure to decline further as time goes on, something that Bob King will fight to prevent, as his legacy has been staked upon revitalizing the UAW.
VW worker Sean Moss commented on the results, saying "We felt like we were already being treated very well by Volkswagen in terms of pay and benefits and bonuses. We also looked at the track record of the UAW. Why buy a ticket on the Titanic?"
Workers saw the negative impact that unionization had on General Motors, Ford, and Chrysler plants, and wanted to prevent damaging their employer's ability to keep the doors open and employ workers domestically.
Not surprisingly, President Obama commented on the recent vote, saying that Republicans put German shareholders ahead of the needs of U.S. workers. This is a fairly expected response from the president. The Democratic Party has traditionally protected big labor, even when unionization hurts workers.