Technology
Sony Unveils Two New Walkman Models to Challenge Apple's iPod Nano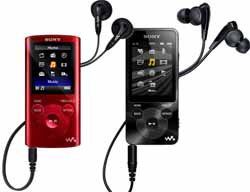 Sony hints that it is not giving up its reputation as a leader in the shrinking personal media players (PMPs). The company has recently introduced two new products from its latest E-Series range of Walkman devices. Industry observers believe the firm is out to challenge the current domination in this segment by rivals Apple Inc and Samsung.
The technology company still sticks to its decision not to incorporate its portable entertainment features into smartphones. But it surely wants to send the message across that its devices are still better compared to those from the competition. The Walkman E380 and the Walkman E580 both support music, video, and picture playback functions.
Walkman E380
As an introductory level model of the new Walkman E-Series, E380 has a small display, only measuring 1.77 inches. However, the design leaves sufficient space to navigate a number of music playing features with D-pad particularly gracing its front.
The small size proves to come with more packages. This PMP could continuously play music for up to 30 hours non-stop with just a single battery charge. Moreover, the sound experience is aimed to be top notch with the presence of the five-band EQ along with a number of sound-enhancing technologies, including the impressive Clear Stereo and Clear Bass.
Walkman E380 comes with storage of 4GB and 8GB. It could possibly store and retrieve up to 1,950 different music and video tracks. However, it could only last to play up to 4 hours of video (in WMV 9 format) in one battery charge. The FM radio is not to be missed. The product comes with a mundane pair of headphones.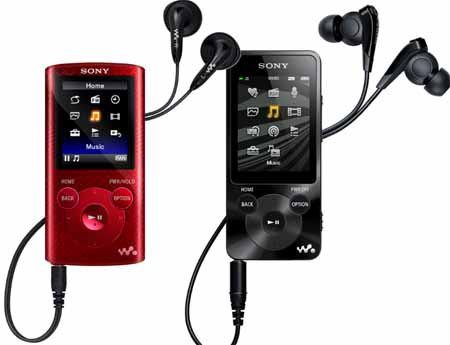 Walkman E580
As an ideal alternative to Apple Inc's iPod Nano, E580 seems to take things up by a notch compared to its sibling. It doubles all impressive features. The screen size is greater at 2 inches. Its battery has a life that could run up to 77 hours in non-stop music playing, all in a single battery charge.
As expected, it comes with more features and capabilities. The storage ranges from 8GB to 16GB, which could possibly store up to 3,700 tracks. The device plays in popular formats like MP3, Linear PCM, WMA, AVC, WMV 9 video, and MPEG4, among others.
The main focus of impressiveness would have to be its audio quality. The sound-enhancing technologies in E380 are present, coupled with the new Digital Sound Enhancement Engine (DSEE) that restores high frequencies that are lost to typical audio compression. It is even equipped with Clear Phase for digital processing and 'Virtual Phones Technology' (VPT) that runs at various environments for club and/or studio recording.