Technology
SmugHug Redesigns Its Website After Rival Flickr Revamps Its Own Site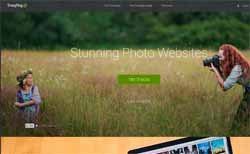 SmugHug has just launched a redesigned version of its Website. Noticeably, the photo-sharing site prioritizes photographs more than other types of content. Users of the network could rave about the update because the company has made sure its redesign would be warmly welcomed across the Internet.
With SmugHug's new design, users would instantly be greeted by tile-like photo display, the moment they get into the site. There are over 15 design templates that could be applied for showcasing photo galleries.
The site features and offers a 'lightbox' mode. When it is activated, pictures presented in the site would be displayed edge to edge. Backgrounds fade away. The site also boasts of its photo organization features, which it claims has significantly improved.
Enjoyable experience
It is not surprising that SmugHug intends to make it easier for users to enjoy cross-device viewing as well as sharing of photographs. A user has to actually try out the new feature to be able to gauge and assess it. However, actual users of the site assert that trying out the new Website interface is not difficult but is an enjoyable experience.
The Website must have also considered bolstering its aesthetic appeal. It would be easy to describe the appearance of the redesigned site as 'pretty' and 'colorful.' However, some observers think the new SmugHug site may have been inspired by the recent redesign of Yahoo's photo sharing site Flickr. So how do these companies compare and contrast?
SmugHug vs. Flickr
SmugHug is not a free Website. Users could use the service for $5 for an entire month or $40 for a yearlong plan. So-called 'power users' could maintain a profile in the site for $8 each month of about $60 per month. Business users could enjoy all SmugHug services for $35 per month of just $30 per year. SmugHug's plan offers are on limited coverage.
For its part, Flickr is offered for free. Users could instantly store up to 500,000 photographs at standard resolution through the site's 1 terabyte of data. It is interesting how Yahoo decided to scrap uploading unlimited volume of photos for just $25 annually.
On the other hand, SmugHug has recently launched its own app on the Android operating system. It does not own a presence in iOS but the Website recommends affiliate Camera Awesome to users who need to find an iOS app.