Politics
Ship rescuing global warming scientists now stuck in ice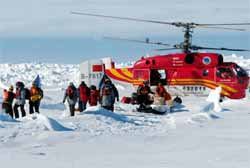 In a strong sense of irony, a rescue ship sent to save a group of scientists in Antarctica who became stranded in the ice pack while researching global warming has now become trapped in ice itself.
The Chinese owned Snow Dragon braved the treacherous ice packs of Antarctica in order to rescue a group of 52 scientists who were on the continent to research the dangers facing earth from global warming. However, in what has been an apparent trend across the planet for the past several years, they instead found themselves trapped due to increasingly cooler temperatures, not warming ones.
The news of their stranding made worldwide headlines, however, most media stories refused to mention the nature of their research.
The scientists became stuck on Christmas Eve when their ship the Akademik Shokalskiy became trapped while heading towards Antarctica.
The crew of the Sea Dragon was eventually able to get close enough to airlift the passengers to their ship, where they were ferried to the Australian ship the Aurora Austrialis by helicopter. However, less than 24 hours later the Sea Dragon found itself also stuck in the ice.
The stranding in the ice comes at a time when scientists at the British Antarctic Survey are reporting that the melting of the Pine Island Glacier ice shelf is at its lowest level in several years.
These actions combined with the cold spell that has engulfed much of America in an historic freeze where wind chills could hit 70 below zero, has proved problematic for advocates of global warming. In Winnipeg the temperature was colder than the surface of Mars.
Global warming advocates in the face of increasingly cold temperatures have begun using the catch phrase "climate change" rather than global warming. The term is convenient because the phrase by its very name applies to anytime the weather changes.
Those noting the record cold spells and storms over the past few years have caught the ire of MSNBC's Chris Hayes, who said he is tired of conservatives who are skeptical of global warming covering news about the cold weather.
During his show on Thursday, Hayes complained about what he called the "strange bizarre underworld of climate trolls" who report on weather conditions.
Of course, no one ever said that climate change meant it wouldn't ever be cold," Hayes said, calling the pointing out of the contradiction about global warming and colder temperatures "willful stupidity" of conservatives "who delight being on the wrong side of history."
Hayes complained that conservative media outlets, such as talk show radio giant Rush Limbaugh and Fox News, make it harder for liberal news media outlets to shape the agenda that the earth is constantly warming due to man-made causes.