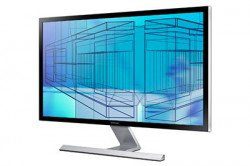 Samsung has announced a trio of new monitors for 2014, including a 4K monitor that's also capable of displaying a billion colors.
The UD590 is a 28-inch TN-panel monitor with a screen resolution of 3820 x 2160 (4K) and is capable of 10-bit color (1 billion colors) at 60Hz. It also features a GTG (grey-to-grey) response time of 1ms, standard 300cd/m2 brightness, 1000:1 contrast, and a 170-degree viewing angle.
Special features of the UD590 include a Picture-in-Picture 2.0 function that retains the source resolution even when the user moves the content to the smaller frame. A new special feature is Picture-by-Picture, which lets users connect 2 source devices and display them simultaneously via split screen. It also has a "Game Mode" which reduces display lag, improves color, and adjusts the screen's contrast levels.
Design-wise, the UD590 features a thin metal black and silver bezel with a t-shaped metal stand. It's equipped with 2 HDMI 1.4 ports and a single DisplayPort.
The UD590 was previously available as a gray-market import from South Korea, but is now officially available for pre-order in the US for an SRP $700.
Samsung has also announced two other monitors that will release near or alongside the UD590 – the SD390 and SD590.
Both monitors will be available in 23.6-and 27-inch sizes, feature Samsung's PLs panels, and have 1,920 x 1,080 screen resolutions. The SD390 features Samsung's "Touch of Color" design style with blue-tinted accents as well as a clear stand along with the standard black bezel and base. The SD590 on the other hand looks similar to the aforementioned new flagship model, the UD590.
The SD390 models are equipped with one HDMI and one VGA port while the SD590 models feature two HDMI ports and one VGA port. Both are equipped with an audio output port for external speakers.
The SD390 will be available for an SRP of $250 for the 23.6-inch model while the 27-inch SD390 will be available for $310. The SD590 on the other hand will be available for $270 for the 23.6-inch and for $330 for the 27-inch                                                                       variant. Both monitors will be available sometime in April 2014.