US
Removing Televisions from Childrens' Rooms May Prevent Obesity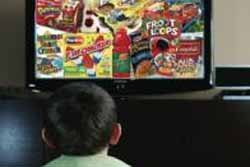 This past weekend, the results of an obesity study was presented at the Society of Behavioral Medicine in Philadelphia, Pennsylvania. The study researched the effects of the home environment on low income children as it relates to the likelihood of them developing childhood obesity.
The study was conducted earlier in the month by researchers at Rush University. It suggests that lack of sleep is a key factor influencing a child's likelihood to become obese. It also identifies television as a potential barrier to obtaining the necessary amount of sleep.
Brad Appelhans, PhD, the principal investigator on the study, is a clinical psychologist as well as an obesity researcher. In a statement he explained why the study was conducted.
"Childhood obesity disproportionately affects low-income children..very little research to date has examined childhood obesity factors in the home environment of low-income households, particularly with respect to emerging risk  factors such as sleep duration."
He further explained that previous studies had focused on neighborhood variables such as access to healthy food and safe areas to exercise. His study focuses exclusively on the home environment as a factor for the development of obesity.
For the study, parents were asked to record the activities of their children while at home. Researchers also collected information about the types of food kept in the home, available sports equipment, and the amounts and types of electronics. The participants' activity level was also measured.
103 households participated in the study, with 55 of them being overweight or obese. The study revealed that on average, the children in the normal weight households slept 33 minutes per day longer. Surprisingly, the presence of sports or other recreational equipment in the home was not a factor. Neither was the amount of time spent watching electronic devices or the amount of high caloric foods eaten. However, Appelhans explains, the presence of a television in the child's bedroom was a factor.
"Our findings highlight the importance of targeting sleep in weight management interventions for low-income children by promoting a consistent bedtime routine, reducing chaos and disorganization in the home environment and encouraging caregivers to monitor screen time. … Our data also supports removing televisions from children's bedrooms"