Politics
Reince Priebus predicts Republican 'tsunami' in 2014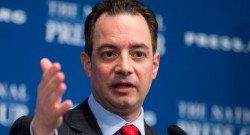 The Republican National Committee Chairman spoke at a breakfast organized by the Christian Science Monitor on Tuesday, and he took the time to make the prediction that his party would win back the Senate and gain seats in the House this November.
Reince Priebus, RNC Chairman, cited President Obama's abysmal approval ratings and the unpopularity of Obamacare as reasons why Republicans will do well in the upcoming midterm elections.
"I think that we're in for a tsunami-type election in 2014. My belief is that it's going to be a very big win, especially at the U.S. Senate level, and I think we may even add some seats in the congressional races," said Priebus.
Priebus was pressed for evidence as to why this may be the case. He responded by highlighting GOP victories in recent special elections in San Diego and Florida's St. Petersburg-area 13th congressional district. He said that these races reminded him of the national wave that his own party faced in the 2006 and 2008 elections.
Priebus said that the candidates in San Diego and Florida's 13th district did a "nice job offering a positive vision," however; he said that there were other factors in play during these races.
"You had the nationalization of Barack Obama and Obamacare in both of those places. It is a poisonous issue for Democrats, just like there were national issues that really hurt us in '06 and '08," explained Priebus.
The Washington Examiner reports that Priebus may be overly confident about the meaning behind those two special elections, saying "While it is true that Republicans in Congress and their advisors are more bullish on their 2014 prospects in the wake of the special House election in Florida, they have shied away from pronouncements about a wave election similar to 2010 and attributed the party's victory in Florida to issues beyond voter dissatisfaction with the Affordable Care Act, such as pessimism about jobs and the economy."
Piebus went on to share some important information regarding the 2016 presidential election. He announced that the GOP presidential convention would be held on either June 27 or July 18 of 2016. The final selection of the city that will hold the convention will be made this August.
"We have to make sure that we put together a process and an operation that gives our nominee the best possible platform in order to be successful," said Priebus.
Priebus' comments echo those made by many on the right, as GOP prospects in 2014 are surely looking up.