Technology
Popcap preparing another Peggle game in near future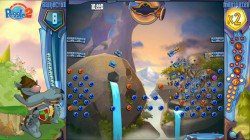 EA CEO Andrew Wilson dropped a few hints on another Peggle title coming from Popcap in the near future. The CEO said in an investor call earlier today that the game had "just went through a test period in preparation for launch" in the near future.
When asked to reveal details, Wilson declined to go further into the game and says whether was a new title or just an old one coming to different platforms. Popcap has been testing a free version of Peggle for mobile devices.
It would be a shame if Wilson was referring to this as the "anticipated release" from Popcap, but in terms of a new Peggle game, Popcap would need to be changing the game mechanics from the norm, considering Peggle 2 was just released last December for Xbox One and 360.
This could be some new DLC coming to Peggle. Peggle is a simple game at heart, but big fans of the title have learned the power of each character and how it can be used to clear boards quicker.
An expansion on this aspect of the game might be nice, but "anticipated" is not the correct word we would use. Still, EA loves to say keywords like innovation and anticipated to hype up crowds for new games, even if the games were never asked for by the audience.
Electronic Arts has a few other games coming in the next few months. FIFA and all of the other sports games come between August and October – this should give EA a few more million sales, keeping the company's profits until Q4 2014.