Technology
Oculus Crescent Bay is one step closer to offering an official consumer product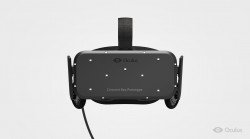 Oculus' first developer conference happened this week. The event, which happened in Las Vegas, offered only one big announcement: Crescent Bay.
The Oculus Rift DK2 still has a lot of problems; founder Palmer Luckey and CEO Brendan Iribe have both commentated on this, stating that in order to make a full commercial experience, the headset needs to be much better.
Crescent Bay might not be the answer for the commercial edition, as it is more than likely coming in 2015 or 2016, but the new virtual reality headset does show some of the vital changes needed to make VR successful in the mainstream market.
The changes with Crescent Bay improve the design of the VR headset. The display looks sharper with a 90Hz refresh rate. The 360-degree tracking now makes it harder to see screen tearing.
Epic Games and Oculus showed some game experiences off at the event to show Crescent Bay's potential in the VR market.
Using the power of 360 tracking, movement, depth, and other sensors, the VR headset should be able to make simulations of new worlds without having to challenge the user to complete quests or block their progress with invisible walls.
When we think about it in the next two years, the big step forward is not in the resolution or comfort realms, but in developers realizing the opportunity of virtual reality and expanding upon it.