US
New School Lunch Program under Fire, Kids Reluctant to Eat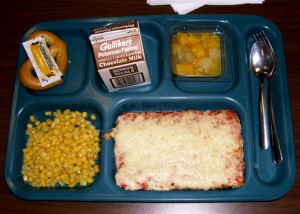 Politicians are questioning the effectiveness of the new school lunch program as school children choose not to eat the USDA approved healthy lunches.
The Healthy, Hunger Free Kids Act of 2010 set new standards for the types of food that could be served in public school cafeterias. In addition to expanding the access to free and low cost meals, it also uses the United States Department of Agriculture to monitor the nutrition of the food that is being served.
Schools are now required to serve fruits and vegetables, whole grains, and appropriate portion sizes.
According to the USDA, this is necessary to help minimize the health risks involved with unhealthy foods and also reduce the occurrence of childhood obesity.
While over 90 percent of schools have adopted the new menus, a large amount of students are not using them.
Instead, students are dissatisfied with the new menus and are choosing not to purchase them. As a result, schools that rely on the sale of lunches to maintain their cafeterias are dropping out of the program, explaining that the subsidies do not justify the cost.  School districts reported losses ranging from $30,000 to $100,000 per year.
They also questioned the effectiveness of the program when the children would not eat the food.
"Some of the stuff we had to offer, they wouldn't eat," explained Superintendent Gary Lewis of Caitlin, Illinois, "so you sit there and watch the kids, and you know they're hungry at the end of the day, and that led to some behavior and some lack of attentiveness."
Republican Congressman Robert Aderholt of Alabama has written an Agricultural spending bill that allows school districts the right to officially waive food standards if they are suffering losses over a 6 month period. The bill has been approved by a House subcommittee.
Current school districts who drop out of the program lose cash reimbursements provided by the National School Lunch Program.
Congressman Alderholt suggests that the schools should not be penalized.
"It is clear to me that it is time for the Administration to hit the pause button on the implementation of school nutrition guidelines and listen to the feedback – some of the rules are unworkable and having the opposite effect."
https://www.usatoday.com/story/theoval/2014/05/27/michelle-obama-sam-kass-school-lunch-stands-house-republicans/9623031/
https://aderholt.house.gov/press-releases/congressman-aderholt-hosts-school-meal-forum-in-cullman-county/