Markets
NetFlix Still Managed to Enlarged Subscriber Base Amid Increase in Price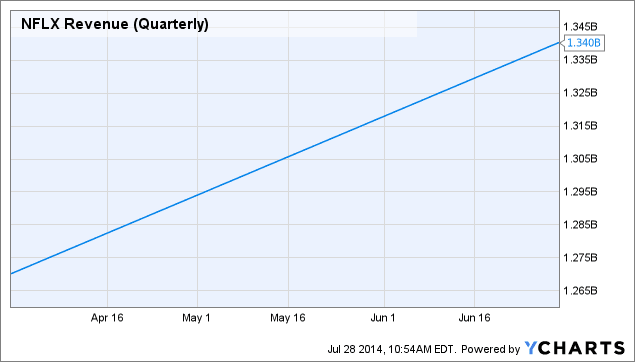 The online video streaming service provider NetFlix Inc (NASDAQ:NFLX) NFLX +0.98% announced last Monday that its second quarter profit increased regardless of a major price hike last quarter. Since the first quarter of 2014, NetFlix's quarterly revenue has increased by 5.54 percent to $1.34 billion.
NetFlix recently increased its monthly subscription price hike to $8.99 amid increased costs of paying broadband providers a "fee" to allow its subscribers a smoother streaming experience.
At the end of the second quarter of 2014, NetFlix's total subscriber base reached reached 50 million. NetFlix announced that its subscriber base from the United States has increased by 22.38 percent this quarter to 35 million against only 28.6 million subscribers a year earlier. In contrast, NetFlix's international subscriber base grew to 12.9 million from 7.8 million during the same time, representing a 65.38 percent growth.
Even though NetFlix's revenue increased, this figure still came short of Wall Street estimates. Furthermore, NetFlix's earnings outlook for the third quarter of 2014 appeared weak. Next quarter, NetFlix is expecting to increase its subscriber base as well, but the majority of the growth is likely to come from its international markets, mainly in Europe. The third quarter outlook for international markets reflects the fact that during last 12 months, the majority of the NetFlix's growth was fueled by international markets, a 65 percent growth compared to only 22 percent growth in the United States.
NetFlix's cost of content is about to increase a lot this year as the company is expecting to spend around $3 billion for movie rights and original TV shows. This would negatively impact the bottom line of NetFlix regardless of the steady revenue growth. However, NetFlix needs to keep growing its subscriber base in order to justify the massive spending plans to its investors.
Year to date, NetFlix's (NASDAQ:NFLX) NFLX +0.98% net income grew by 46.7 percent to $71.02 million, or an earnings per share of $1.15. Last year during the same period, NetFlix's net income was only $29.5 million with an earnings per share of $0.49. While the third quarter outlook was weak, the company still expects to boost revenue to $1.22 billion with an estimated net income of $55 million.