Business
Netflix (NASDAQ:NFLX) set to Dominate TV as Viewership Reaches Mass Market Appeal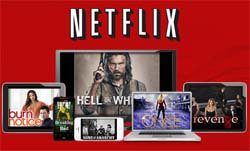 NEW YORK –  While analysts estimate that more than 40 percent of households in the United States receive all or part of their 'television' from streaming sites such as Netflix (NASDAQ:NFLX), it has been difficult to ascertain exact viewership figures.  However, that is about to change as Nielsen (NYSE:NLSN) announced on Tuesday that the company will begin measuring viewership of subscription online services.
The new measurement, which Nielsen will meter without the assent of Netflix or Amazon (NASDAQ:AMZN), will track the audio components of the program to identify which shows are being watched and by whom.  The service will track fixed-line broadband subscribers upon launch, but Nielson is working on how to track mobile devices steaming video on cell networks as well.
According the Nielson, the measurements will help content owners better to understand the impact of licensing their programs.  This comes at a time when production houses are increasingly turning to Amazon and Netflix to 'broadcast' their shows – often at the expense of over-the-air and cable networks. Nielson Senior Vice President, Brian Fuhrer, note that 'clients will be able to look at their programs and understand: Is putting content on Netflix impacting the viewership on linear and traditional video on demand?'
Analysts believe this could dramatically alter negotiations between streaming sites such as Netflix and TV studios.  Currently, the streaming sites that leverage as deals come up for renewal as they are the only ones with direct access to accurate viewership information.
Furthermore, documents released to the press show that Nielson believes that the viewership on streaming video sites has grown from 34 percent of all household in January to just over 40 percent in September.  The rate of growth has surprised many in the advertising industry.
This is welcome news for Netflix as they are the largest premium content streaming site in the United States.  The report also found that people who are video subscribers watch less TV than nonsubscriber.  Up to 20 percent less in some cases.
Nielsen's Senior Vice President for Client Insights, Dounia Turrill, noted 'there is a certain indication that as you acquire, your television use, in terms of traditional television use, is going down.' However Mr. Turrill, noted that more data is required to draw definitive conclusions.  If the data shows that viewers are increasingly choosing Netflix over cable and over-the-air television, Netflix will gain even more leverage with production houses and syndicators – a shift that would lead to accelerated subscriber rates and even more profits.
Shares of Netflix opened up on Wednesday morning at $ 383.43.