Investment
Mortgage Home Loan Rates at Bank of America on December 9, 2013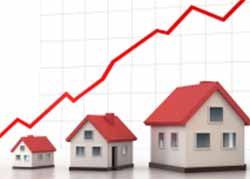 At the beginning of the new week, potential home buyers seem to have no respite from the soaring mortgage interest rates of fresh home purchase and refinancing loan options available at Bank of America (NYSE: BAC) BAC +0.57%. The benchmark 30 year fixed mortgage rates as well as the lending rate at which other options can be availed continue to fluctuate along the skyline on December 9, 2013.
Today, customers interested in exploring long term home financing options will find the standard 30 year fixed rate mortgage loans listed against an interest charge of 4.500% and an annual percentage rate of 4.639% in the bank's loan books. On the other hand, the short term, 15 year fixed rate mortgage options stand listed at an interest rate of 3.750% and carry an APR yield of 3.903%.
Sometimes, variable interest rates are what borrowers are looking for in the home financing options they are likely to opt for. Bank of America caters to the needs of such mortgagors by providing 5 year adjustable rate mortgage loans at an interest rate of 3.375%, which come along with an APR yield of 3.128% to start with.
For those interested in boarding the refinancing ship, the US based lender provides the best 30 year fixed rate mortgage home loans against a lending charge of 4.625% which carries an APR yield of 4.749%. The short term counterpart of the 30 year refinancing FRM deals, the 15 year refinancing fixed rate home loans, can be acquired by bearing an interest burden of 3.875% and an APR yield of 4.021%.
In the loan section with flexible rates of interest, the bank provides short term, 5 year refinancing adjustable rate mortgage deals at a starting lending rate of 3.500%, which are today accompanied by an annual percentage yield of 3.181%.
Today, the Countrywide Unit of Bank of America Corp finally won an approval of an amount equivalent to $500 million as a class – action settlement with investors who earlier claimed that they were deceived by the bank into purchasing its mortgage backed financial securities.
In Los Angeles, Mariana Pfaelzer, US District Judge, stated that this settlement is a fair outcome as in the earlier rulings, investors were prevented from recovering any damages from the Countrywide Unit of Bank of America.
Disclaimer: The rates quoted above are basically the average advertised by a particular lending company. No guarantee of taken from the lender' aspect whether the borrower will qualify for the mortgage rates mentioned in the article. The lenders dole out interest depending upon various facets, some of which may be unique to the borrower. This website does not engage in the sale or promotion of financial products and makes no claims as to the accuracy of the quotation of interest rates.