Markets
Microsoft Corporation (MSFT) Unveils Its Roadmap For Office 365 For Business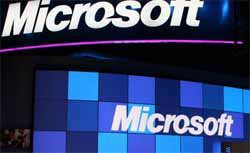 Microsoft Corporation (NASDAQ:MSFT) MSFT +0.17% has gone public with its Office 365 for business roadmap. The company announced in a blog post Thursday that it has also unveiled the First Release program to create a more open relationship with its customers. The roadmap shows information about various Office 365 features that have been launched, are in development, or have been cancelled. In short, the software giant will now let you know the status of upcoming features.
Just to make it clear, this roadmap is only for Office 365 business customers. It doesn't apply to Home or Personal versions, as both the First Release and roadmap are aimed at business customers. Earlier this year, Office general manager Julia White told InformationWeek that, since Office 365 is a cloud platform, the company will be able to introduce new features quickly and offer earlier previews to customers.
Office 365 group product manager Jake Zborowski said that the roadmap will give "a few months" view of major updates, enhancements, and new features. However, not all new features will be included in the roadmap.
Talking about the First Release, Microsoft Corporation (NASDAQ:MSFT) MSFT +0.17% said that customers who opt into First Release will get access to qualifying updates at least two weeks ahead of the public release. The word "qualifying" implies that this early release won't include all the features. The Redmond-based company said that First Release participants will get access to "a small selection" of improvements to the user experience, SharePoint Online, and Exchange Online first.
The goal of First Release is to help business clients work out potential problems and conflicts before the updates are released to the masses. Microsoft Corporation (NASDAQ:MSFT) MSFT +0.17% said First Release is not a beta program because all the features offered in the program are fully supported and tested.
Things that won't be part of First Release program are updates to Exchange Online Protection, Lync Online, Office 365 Pro Plus, and other related services. Businesses that want to opt into the First Release program can sign up through the 'Updates' section on the Office 365 admin portal.
Both the First Release and Office 365 for business roadmap would use Office 365's Message Center to notify customers if and when Microsoft Corporation (NASDAQ:MSFT) makes changes to its service.
Microsoft Corporation (NASDAQ:MSFT) MSFT +0.17% shares fell 0.26% to $41.40 in pre-market trading Friday.