Politics
Media lose interest in Ferguson story after evidence Brown beat up cop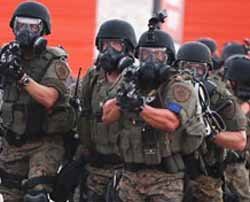 While the media has been engaging in virtually non-stop coverage over the riots and protests in Ferguson, Missouri after a police officer shot and killed a African American teenager on Aug. 9, they have now apparently lost interest in the story following new claims that the teen attacked and severely injured the officer.
Since the shooting, the narrative has been that 18 year old Michael Brown was simply an innocent teenager who was shot by a police officer while attempting to surrender. This claim has led to frequent riots that involved stores in the area by protestors and has even called elected officials such as Rand Paul and President Obama to criticize the actions taken by police.
However, last week, responding to numerous Freedom of Information requests from the media, Ferguson's police chief released video that appeared to show Brown stealing cigars from a local store shortly before his encounter with police.
A Facebook posting by a local radio station, 100.7 FM, claimed several key witnesses have come forward to say that Brown attacked police officer Darren Wilson and attempted to take away his gun. Fox News also reported that Wilson suffered severe injuries during the melee including facial injuring that included a fractured eye socket and nearly led to his being knocked unconscious prior to his firing his gun and shooting his assailant.
If these new claims are correct, the entire narrative surrounding the case changes. While the investigation is still ongoing and is not expected to be completed for several weeks, a medical examiner testified he was unable to say for certain how Brown was shot.
Jerome Corsi, an editor with WND reported that the media have begun pulling out.
"Many news media services already had begun packing tents and television transmission vehicles as word circulated through the Ferguson community of further evidence that the black teen shot and killed by a police officer was the aggressor, resisting arrest after his suspected role in a convenience store robbery," Corsi reported.