Politics
IRS cites "dead horse" civil war law to defend regulating tax preparers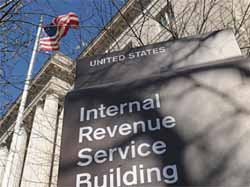 The Obama administration took a highly unusual argument before an appellate court as to why it had the authority to regulate the tax-preparation business by referring to a 19th-century law that dealt with horses lost or killed in the Civil War.
The bizarre argument came at an appellate court hearing regarding a challenge brought by libertarian lawyers who were challenging the Obama administration over new rules by the Internal Revenue Service intended to regulate the tens of thousands of preparers who helped millions of Americans fill out their federal tax returns. Because of the nature of the tax-preparation season, many of these workers are part-time. However, the administration argues it has the right to regulate those offering this voluntary service by forcing them to pass a competency test and take annual continuing education classes.
However, the administration has not made it clear how will ensure that preparers are able to give accurate information when agents of the IRS are unable to do so. Studies have shown that a person can call the IRS with the exact same question, talk to several different agents and get a different answer each time.
During the hearing, Justice Department Tax Division lawyer Gilbert Rothenberg said, "I hate to beat a dead horse, especially one from the Civil War era."
He then went on to explain that the Obama administration's position is that the "Horse Act of 1884" provides ample authority to regulate tax preparers.
The law at issue deals with events after the Civil War where many Americans brought war loss claims against the US government, often for dead or missing horses. Because of the sheer number of claims, a postwar industry emerged that consisted of agents who would press war loss claims for a client, usually for a fee which was a percentage of the claim collected. As a result, claim values began to be fraudulently inflated.
In response to the fraud, the government began regulating these intermediaries by banning unscrupulous ones while certifying honest ones as "enrolled agents." The title is still used today by people who represent clients in matters before the IRS.
The IRS is claiming that by helping people fill out the return tax return, preparers are representing their customers in much the same way that enrolled agents do.
However, the Institute for justice is arguing that tax return preparers do not carry the same level of representation, but instead they merely provide a paid service for clients.
"Congress never gave the IRS authority to regulate tax preparers," said Dan Alban, an attorney for the institute said. "Preparing a tax return is not a representative act. It is performing a service, certainly, but there's no representation."