Politics
Intelligence officials calling for more security at foreign airports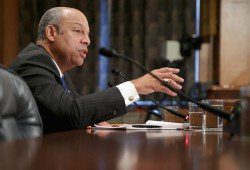 The U.S. intelligence community is warning of the possibility of non-metallic explosives being brought onto planes. The concept of bombs that are undetectable by traditional security measures has prompted the U.S. to call for additional security at some foreign airports.
The Associated Press reports, "The counterterrorism official, who would not be named because he was not authorized to discuss the matter publicly, declined to describe the kind of information that triggered this warning. But officials in the past have raised concerns about non-metallic explosives being surgically implanted inside a traveler's body, designed to be undetectable in pat-downs or metal detectors."
While there is no immediate threat to travelers, the U.S. has been planning extra security measures for a month.
There have been quite a few Americans who have traveled from the West to Syria to fight with al Nusra against the Syrian government. The concern revolves around these Americans, as they carry U.S. passports and are subject to less scrutiny during security screening, meaning that they could carry one of these undetectable bombs onto an American airplane.
"People should not overreact to it or over-speculate about what's going on, but there clearly are concerns centered around aviation security that we need to be vigilant about," said U.S. Secretary of Homeland Security Jeh Johnson on MSNBC.
Even with this reassurance about the safety of aviation travel, the State Department has informed U.S. Embassy employees in Algeria to stay away from U.S. owned and operated hotels on July 4th and 5th.
"As of June 2014 an unspecified terrorist group may have been considering attacks in Algiers, possibly in the vicinity of a U.S.-branded hotel," said a statement from the U.S. embassy in Algeria.
State department spokeswoman Jen Psaki commented on the increased security, saying "I would say broadly speaking that the threat of foreign fighters is a concern that we share with many counterparts in the world, whether that's European or others in the Western world, where we've seen an increase in foreign fighters who have traveled to Syria and other countries in the region and returning."
The U.S. government did not provide any details on which airports in other countries will have heightened security, but there are over 250 foreign airports that offer service to the U.S.
Joshua Free, spokesman for American Airlines, said that his company has been in contact with the State Department about the new security requests, but he did not speak further about the matter.