Technology
HP Unveils All-In-One Mobile PC ENVY Rove20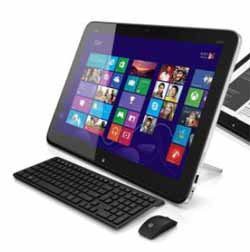 Last May, Hewlett-Packard (HP) hinted its plans to release its first ever mobile All-In-One PC, which would be called HP ENVY Rove20. The idea is to make the desktop PC lighter, portable, and more accessible to users. It would facilitate shared entertainment experience and overall functionality. The basic features disclosed include a unique design, built-in battery, and an advanced touch technology.
As the announced release date nears (July 14), the company recently revealed more information about the new device's specs. First, HP ENVY Rove20 would come with a 20-inch display—an IPS LED widescreen panel with 1,600 X 900 resolution. The screen would facilitate wider viewing angles, sharp graphics, and rich colors.
Increased usefulness
Beats Audio is built-in to provide clearer and crisper sound. Its internal battery has the capacity to power a run-time of up to three hours. That means users could enjoy watching about two average Hollywood movies in the device, back-to-back.
The All-In-One hybrid device would have three USB ports. There would be one USB 3.0 port on the right side and two on its left. If you need expanded storage, there is an SD card slot to make it possible. Basic accessories like wireless mouse and keyboard are also provided for users who need to use the basic word processing and old-school applications.
Sharing features
The Rotation Button is a simple yet innovative approach to using the device with other people. Users could instantly spin the All-In-One's screen to get to landscape or portrait mode. This is useful in case a user wants to share the screen with some other users sitting across the table.
There is a metal prop built-in at the back. It could easily and conveniently fold into the unit's back. You just need to push a button and the device would immediately modify its elevation according to your preferences. This way, ENVY Rove20 could move horizontally for a tabletop usefulness.
Simultaneous usage
The advanced multiple-touch features enable simultaneous usage by multiple users. This would be necessary for interactive gaming and other group activities at the same time. Lay the device flat on top of the table and you could play multiplayer games with family or friends.
As mentioned, HP ENVY Rove20 would be put up for sale at the company's own shopping site starting July 14. The intended price tag would be $979. It would also hit other retail stores on or after that date.