Politics
House Republicans preparing $30 million advertising blitz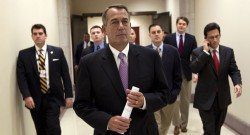 On Tuesday, the Republican Party's campaign arm rolled out a media buying plan that includes $30 million worth of television ads that will be run across the entire country. In comparison, Democrats have set aside $44 million in advertising on house races, not surprising considering the disadvantage they have going into this year's midterm elections.
"The big spending still might not be enough to tip the balance of power. Redrawn congressional districts after the 2010 census heavily favored Republicans. Coupled with that, the party that holds the White House historically has lost seats in elections at this point in a president's term, and President Barack Obama, a Democrat, is very unpopular in many congressional districts," reports the Washington Examiner.
Republicans currently hold onto 233 seats in the House. Democrats control 199 seats. The GOP is hoping to pick up another 12 seats to further increase its advantage.
"Democrats in competitive districts will be hitting the panic button today," said NRCC spokeswoman Andrea Bozek of her party's new ad push.
The Democratic Party has built up a significant fundraising advantage over its conservative counterpart, which is paying off in the party's ability to spend an extra $14 million more than the GOP on ads this cycle.
This isn't uncommon in American politics, as the party that is falling behind in an election is usually able to raise extra money from panicked donors.
The top media buy on the part of the Republicans is a $3.3 million booking in Denver. Republican Rep. Mike Coffman and Democrat Andrew Romanoff are fighting a competitive race in the Denver suburbs.
Minneapolis is receiving a $3.2 million ad buy from the GOP. There are two vulnerable Democratic reps in that area that are top targets for the Republican Party.
There is also a $2.8 million ad buy in Washington, D.C.
Republican Rep. Frank Wolf of the Virginia suburbs is not seeking another term, so both the GOP and Democratic Party see his seat as being wide open.
Both parties are locking in their ad buys at this early stage because purchasing air time early can provide more bang for your buck. The party                                                                 committees will receive discounts for their early purchases of up to nearly                                                               35 percent.
This year's midterm elections are proving to be an uphill battle for the Democratic Party, as President Obama's wild unpopular with voters is trickling down to his own party. Perhaps the increased spending on the part of the Democratic Party will help lessen the gap between them and the Republican Party.