Politics
House reduces food stamps by $4B a year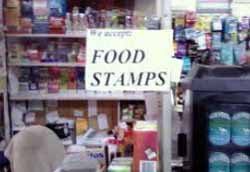 In a move that is been described by critics as "slashing" and "wanting to take food out of the mouths of children," the House of Representatives voted on a bill that would reduce food stamp benefits by $4 billion each year for the next 10 years.
Following passage on the bill, media outlets have attempted to spin the bill as an immediate slashing of $40 billion from the program. However the total amount is actually spread out over the course of 10 years.
Despite the bill's passage in the House, is unlikely to survive the Democrat-controlled Senate.
The bill obtains the savings by allowing states to put broad new work requirements in place for many food stamp recipients as well as enable them to test prospective applicants for drug use. Additionally, the bill would end government waivers issued by the Obama administration that allowed able-bodied adults without any dependents to receive food stamps indefinitely.
Conservatives have argued that the food stamp program has become bloated and gone far beyond what was originally intended to do. Currently over 47 million Americans are now on food stamps and the cost of the program is more than doubled in the last five years as Americans struggled through what is been called the Great Recession.
Throughout the process, finding an area of agreement has been difficult. While conservatives felt the program could sustain even larger cuts due to its inefficiency, liberals opposed any type of cuts whatsoever.
The food stamp legislation is part of the effort by the House to complete work on a widely anticipated and much delayed farm bill which historically included both programs that actually helped farmers as well as food stamps in the same bill. Earlier this year the House Agricultural Committee voted to approve the combined bill similar to what occurred in years past, but it was defeated on the floor in June following a revolt of conservatives who said that Bill, which included cuts of around $2 billion annually to the food stamp program was not high enough.
Following the farm bill's defeat, Republican leaders split the legislation into two parts, passing a bill in July that only included farm programs while promising the food stamp bill would come later. Many Americans have long thought this was a more sensible approach questioning why a government welfare program has anything to do with a bill intended to help farmers.
While Democrats have attempted to spin the bill as an attempt by the Republicans to starve children to death, the Republicans have emphasized that the language in the bill targets only able-bodied adults without dependents. They also argue the work requirements and the bill are virtually identical to the 1996 welfare law which led to a decline in people receiving government assistance.
"Politically it's a great issue," says Rep. Tim Huelskamp, R-Kan., one of the conservatives who has pushed for the larger cuts. "I think most Americans don't think you should be getting something for free, especially for the able-bodied adults."