Business
Home Prices Rose 5.7% in January, Climbing Faster Than Income and Inflation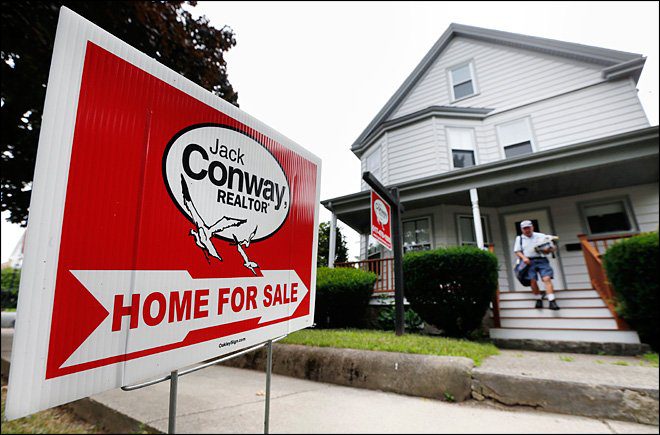 In January, home prices climbed 5.7% from a year ago, slightly higher than the 5.6% annual increase reported in December, according to the Standard & Poor's/Case-Shiller 20-city home price index released on Tuesday.
David Blitzer, managing director and chairman of the index committee for S&P Dow Jones Indices, said, "Home prices are rising very rapidly — twice the rate of inflation. There is very, very little supply."
Prices also rose at more than double the rate of incomes in January. Home prices rose 2.6 times faster than hourly wages, which increased just 2.2% over the same time period, according to a recent government report. Economists warn that this trend will lead to affordability issues for buyers, particularly first-time and lower-income buyers.
The West drove most of the home price appreciation. Denver, Seattle, San Francisco, and Portland all experienced double-digit price appreciation over the last year. Prices rose by 11.8% in Portland, up from 11.4% in December.
Prices rose in all 20 metropolitan markets measured by the Case-Shiller home price index. Together, these 20 cities account for almost half of U.S. inventory. 11 cities on the index had greater annual price increases in January than in December on an unadjusted basis, but all 20 reported higher gains on a seasonally adjusted basis.
The index is still 11% lower than its peak in mid-2006.
Earlier in March, the National Association of Realtors reported existing homes sold at a seasonally adjusted rate of 5.08 million last month, down 7.1% from January. Despite a high demand for homes, February home listings fell 1.1% from a year ago.
According to Trulia, the inventory of starter homes is down by over 40% since 2012. The report found that in 95 of the top 100 markets in the country, new home buyers are facing severely limited inventory and homes that are available are more expensive. In some hot markets, such as San Diego, Salt Lake City, San Antonio, and Austin, the supply of starter homes and trade-up homes is down over 80%. In Los Angeles, for example, the median starter home list price is now $714,000. More than 88% of a starter home buyer's income would be needed to afford this median price. That's more than 28% more income needed than in 2012.