Politics
Hillary Clinton's book sales left in dust by anti-Hillary books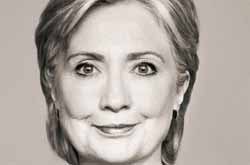 Former Secretary of State Hillary Clinton may be facing even bigger problems if she were to decide to run for President of the United States in 2016, as it turns out that anti-Hillary Clinton books are skyrocketing in sales past her most recent book, "Hard Choices."
Clinton's book Hard Choices was released with much fanfare as it supposedly dealt with some of the difficult decisions she made while Secretary of State. However, the book has suffered from a severe lack of sales to the point the publisher may end up losing millions of dollars due to the hefty advance it gave Clinton. Ironically, Clinton did not even write the book, which was reportedly written by a ghostwriter.
Following the release of the book, Clinton's remarks in interviews about it became the subject of late night jokes when she insisted that her and former President Bill Clinton were dead broke upon leaving the White House and could hardly make the mortgage payments on the multiple houses they owned.
However, adding insult to injury, it now appears her book is being surpassed by a pair of books that have taken the Clinton's to task. The first book is "Blood Feud: The Clintons v. the Obamas" by Ed Klein. The book details a long time animosity between the two families that borders on hatred for each other. Among the allegations in the book are that Obama may not endorse and back Hillary Clinton if she were to decide to run to replace him in 2016. Klein claims that Obama has hinted that he wants someone who is more in tune with his values.
Following on the heels of Klein's book, Daniel Harper has just released "Clinton Inc.: The Audacious Rebuilding of a Political Machine." The book's description notes that Harper has researched the accounts "of the brilliant calculations, secret deals, and occasionally treacherous maneuverings that led to the Clintons' return to political prominence."
Currently, Hard Choices is listed at number 124 at Amazon. By comparison, Blood Feud is listed much higher up the list at number 39. However, Harper's book has beat both of them out at number 23 on the list.
Additionally, Klein's book is currently one notch above Clinton's book on the New York Times hardcover nonfiction bestseller list.
Clinton's sales have taken a drastic plummet for the first week where it sold 86,000 copies to a mere 10,000 last week. By comparison, for the past three weeks Klein's book has sold over 17,000 copies.