Politics
Hillary Clinton: Businesses Don't Create Jobs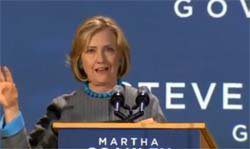 During an appearance at a Boston rally for Democrat gubernatorial candidate Martha Coakley this week, Hillary Clinton told the crowd at the Park Plaza Hotel that corporations and businesses do not create jobs, seemingly embracing the "You didn't build that" line of thought used by President Obama and a U.S. senator in the 2012 presidential elections.
"Don't let anybody tell you corporations and businesses create jobs," Clinton said. "You know that old theory, 'trickle-down economics.' That has been tried, that has failed. It has failed rather spectacularly."
The comment is reminiscent of a similar statement made by Elizabeth Warren, who preceded Clinton onstage at the rally. In 2011, Warren said, "There is nobody in this country who got rich on his own. Nobody."
During the rally, Clinton reminded the crowd that she voted to raise the minimum wage under President George W. Bush in 2007. The bill took effect in stages that started that summer. In June of 2007, the Household Survey of the BLS found that the economy had 14.063 million jobs, shortly before the wage hike took effect. In September of this month, data found the economy had 146.6 million jobs, and increase of just 500,000 in more than seven years.
The jobs comment is viewed as a complete flip-flop on Clinton's position just months ago. In her book "Hard Choices," published in June, she wrote, "There were still too many barriers and restrictions, but American companies were slowly gaining access to Indian markets, creating jobs and opportunities for people in both countries." In the book, Clinton also discussed her role helping American companies compete internationally to create jobs at home.
Clinton spearheaded a fundraiser for Coakley that was expected to raise $500,000. Coakley's campaign has faced a major cash gap compared to GOP rival Charlie Baker. The former first lady's husband, former President Clinton, as well as first lady Michelle Obama, have also headlined recent events for Coakley.