US
High Fructose Corn Syrup Replaces Honey for Humans and Bees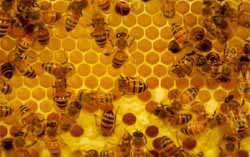 Humans and honey bees have been eating high fructose corn syrup as a honey substitute and may not even realize it.
The Food and Drug Administration has recently issued a statement regarding the proper labeling of honey that suggests that many honey products sold in the United States actually contain high fructose corn syrup additives. Based on current requirements, food manufacturers may add large amounts of high fructose corn syrup to their products and not disclose this to consumers. Consumers believe they are purchasing honey, but the product may also contain corn or cane syrup.
This comes after a report that commercial honeybees have been fed high fructose corn syrup instead of honey in the interest of packaging it for humans. Although the bee diet is primarily based on nectar and pollen, bees also ingest honey and feed it to their larvae.  The practice of replacing the bees' diet with the sugar substitute is believed to have weakened the bees' immune systems and possibly cause the decline in honey bee population.
The change in honey labeling was fueled by a request led by the American Beekeeping Federation to: "clarify what the term 'honey' means", "combat economic adulteration of honey", and "promote honesty and fair dealing within the food trade in general."  

The statement from the FDA is currently draft guidance and does not suggest that new labeling will be enforced at this time. Guidance on how commercial honey should be labeled in the future are discussed in the draft however.
High fructose corn syrup is a chemical processed sugar made from corn syrups. It has been considered safe by The Food and Drug Administration, but is required to be labeled separately from other forms of corn syrup.  

Consumer advocate group Citizens for Health has named high fructose corn syrup as the #1 food additive to avoid based on its potential to cause adverse health effects.
"Per capita, Americans consume the same amount of real sugar today as they did in 1909, while we've watched diabetes and obesity rates skyrocket. Many wonder if HFCS plays a role," says Citizens for Health's Jim Turner. "They might want to avoid HFCS until the questions about it are answered."
Sources:
https://phys.org/news/2013-04-high-fructose-corn-syrup-tied-worldwide.html
https://www.fda.gov/food/guidanceregulation/guidancedocumentsregulatoryinformation/labelingnutrition/ucm389501.htm
https://www.prnewswire.com/news-releases/high-fructose-corn-syrup-named-the-1-ingredient-to-avoid-for-national-read-your-labels-day-254781991.html