Technology
Grand Theft Auto 5 coming to PS4 and Xbox One on Nov 18, PC on 27 Jan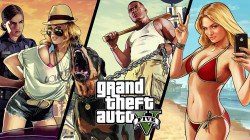 Rockstar Games has finally revealed the release dates for the PS4, Xbox One and PC version of Grand Theft Auto 5, and it goes without saying, PC fans are not pleased. When Rockstar originally announced the game was coming to next generation machines, they said all platforms will get it in the Fall.
Something has changed internally, now Grand Theft Auto 5 is coming to PS4 and Xbox One on November 18, but has been pushed back to January 27 2015 for PC. This is yet another delay on the PC launch, pushing customers to buy the console version.
The next-generation version of Grand Theft Auto 5 will be updated with around 100 new tracks, new DJ lines, better draw distance, more populated roads, more pedestrians and higher graphical performance.
Rockstar's parent Take Two Interactive said it will blow customers away when they try it out, and will beat all expectations. This is a pretty high valuation of a simple redub for PS4, Xbox One and PC, but if Rockstar has spent the best part of a year on the port, it might be worth it.
Grand Theft Auto 5 has been one of the most successful games of all time, with around 35 million console sales on the Xbox 360 and PS3 alone. Analysts predict an extra five million coming from the PS4 and Xbox One, and then another 10 million on Steam before Summer 2015.
This is all good, but we have to question why Rockstar Games is holding off on a PC launch, at the same time as the PS4 and Xbox One launch. It appears either Rockstar or Take Two is all for getting every cent out of consoles, before they push GTA 5 to the murky pirating waters of PC.