Markets
Google's Adwords Location Extension Will Increase Revenues
Since the bulk of Google Inc's (NASDAQ:GOOG) GOOG +1.03% revenue comes from its advertisement program known as AdWords, investors were paying keen attention when Google updated its advert ranking calculations back in October 2013 to factor in ad extensions, including formats. The new ad ranking formula makes the decision to position the order of Adwords paid search advertisements on Google research result pages.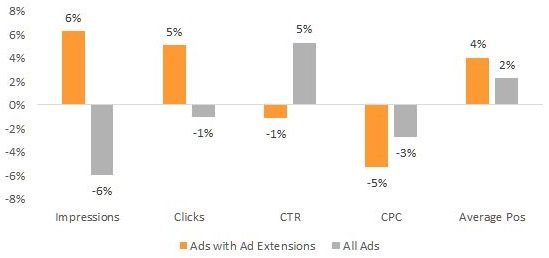 Recently, the The Search Agency, one of the leading online marketing strategy providers, released its findings regarding the impact of the new ad ranking formula on Google's bottom line . They surveyed across 3,500 latest web campaigns run by a large set of clients who included certain ad extensions in the campaign to maximize the impact of their advertisement budget for Google Adwords. These extensions included location, call, review, offer, app, and sitelinks in order to compare the inclusive performance of these ads.
The findings of this survey mounted that using extensions with ads on AdWords has tremendous positive impacts, as the clicks on the ads and impression of these ads increased by 5 percent and 6 percent, respectively. The Search Agency reported that one particular ad extension in Adwords had the most impact on increasing clicks and impression, the location extension. When advertisers used the location extension, impressions increased by 50 percent and clicks increased by a staggering 95 percent.
"What we found significant was the large jump in impressions and clicks, which points to ads with extensions possibly being served more often," says The Search Agency's Director, Mr. Matt Grebow.
Although Google's (NASDAQ:GOOG) GOOG +1.03% stock price has declined by US$ 7.61 per share today (December 12, 2013), this survey by The Search Agency gives a promising growth prospect of revenue growth for the company.
Google's revenue has been steady rising over the last five years. Actually, its annual revenue has more than doubled during that time. During the last two years, as the United States economy rebounded, advertisers poured in their ad budgets to online marketing, and the bulk of that went into Google's balance sheet. As a testimony to that, during last 24 months, Google's stock price has appreciated more than 100 percent, from low S$ 500 to over US$ 1080 per share this month.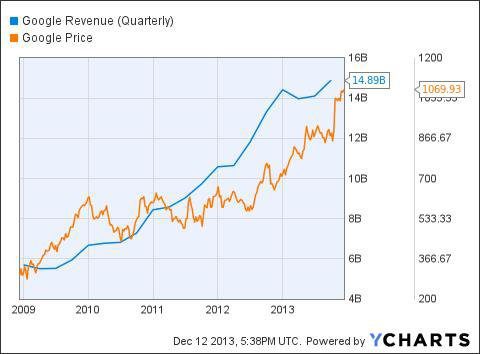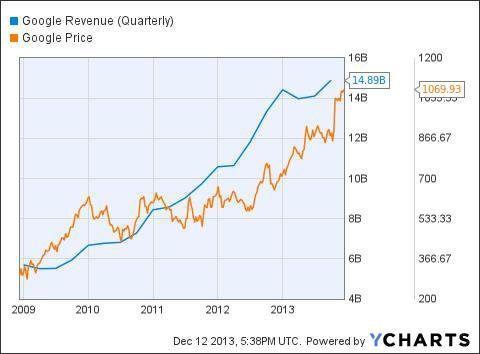 The latest ad ranking formula will provide Google will more opportunities to maximize its revenues in coming years. As the location extension will help advertisers target geographically relevant users, and Google makes its profits when website visitors "clicks" on ads; this latest formula has huge potential to deliver location based ads to a narrower target users who are more likely to "click" on the ad, increasing revenue of Google. Regardless how this formula works in the future, it sure will increase Google's revenues by 5 to 6 percent as demonstrated by The Search Agency.