Companies
GM adopts new policy to help recoup recall costs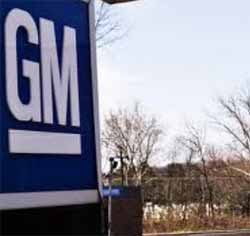 A lawyer for auto suppliers has said General Motors is introducing a new purchasing contract that it claims will enable it to help recover the cost of safety recalls by having the suppliers pay the bill.
Under the new contract, which GM began implementing last month on July 15, suppliers can be held responsible for a part they manufacture for the auto company in the event General Motors later recalls the part for safety reasons. The suppliers would still be liable for issues with the part even if they built the part according to GM specifications, Sheldon Klein, an attorney for Butzel Long, that analyzes contracts for the Original Equipment Suppliers Association says.
The language in the new contract has the potential for a "potentially catastrophic" financial liability problem for suppliers, Auto News reported Klein as saying. "As a practical matter it's not insurable.
While recalls of automobiles are nothing new, in recent years a series of costly recalls has plagued the industry with several automakers paying millions of dollars in fines and repairs.
Just this month Ford Motor Co. announced it reached a deal with the National Highway Traffic Safety Administration to pay $17.35million in fines over failure to notify customers of a recall in a timely manner. Last year Toyota also paid a $17.35 million fine for a similar issue involving a pedal entrapment problem with certain Lexus vehicles.
Earlier this year Chrysler Group was forced to pay for a costly recall after the company agreed to install trailer hitches on up to 1.56 million Jeep Grand Cherokees manufactured between 1993 and 1998 and Jeep Libertys made from 2002 to 2007. The company is adding the hitches to protect the vehicles fuel tanks which over concerns they could explode and catch fire in a rear end collision. The recall was ordered despite the fuel tanks meeting federal safety requirements at the time they were manufactured.
Following a request by the NHTSA, Chrysler issued a recall of the fuel tanks which are located just behind the rear axle. The auto company has said the cost of the recall could exceed $151 million.
Under the new contract there are open ended provisions that state the supplier's products "will not, at any time (including after expiration or termination of this contract), pose an unreasonable risk to consumer or vehicle safety."
The statement apparently comes in response to new expectations from the NHTSA that automakers go beyond requirements by the agency.
David Strickland, NHTSA Administrator told Auto News that if automakers want to prevent more costly recalls they must be "within the zone of reasonable risk," and not only meet federal safety standards but keep up with current designs and technology among competitors.