Markets
FireEye (FEYE) Acquires Mandiant For $1 Billion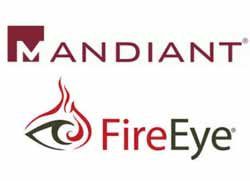 On January 2nd, FireEye (NASDAQ: FEYE) FEYE +1.18% acquired rival Mandiant for roughly $1 billion dollars.  The deal will be financed through a combination of 16.9 million FireEye shares and $106 million in cash.
FireEye provides network security solutions addressing Advanced Persistent Threats (APTs), which traditional IT security tools like anti-virus and firewalls have largely failed to protect users from. Mandiant is a leading provider of endpoint security products and incidence response management solutions.
FireEye's acquisition substantially expands its total addressable market, and accelerates the company's move to deploy its core virtual machine based technology platform throughout an organization's IT architecture.  The combination of the two companies creates a unique end-to-end next generation security platform.
In addition to extending FireEye's security platform, the overlap between FEYE and Mandiant's total customer base is relatively small (approximately 10 to 20 percent), and thus creates substantial room for cross-sell and up-sell opportunities with its large corporate clients.
Within the last year, FireEye has heavily invested in building out its go-to-market channels, specifically its broader international presence, which can now be leveraged by Mandiant, which has historically focused on US based companies.
Increased guidance
In addition to the acquisition announcement, FireEye also announced that it now expects its fourth quarter 2013 billings to be in the range of $95 to $100 million, significantly higher than the previous guidance of $82 to $86 billion.  Additionally, revenue for the same quarter is expected to be in the range of $55 to $57 million, from a previous $52 to $54 million.
As a result of the acquisition, the company also increased its 2014 estimates to reflect the acquired contribution.  Full year 2014 billings are now expected to come in between $540 to $560 million from a previous $350 to $370 million, and revenue between $400 to $410 million from a previous $240 to $250 million.
What this means for investors
FireEye has been aggressively introducing new products to the market in order to expand on the growing number of threats impacting organizations today.  FireEye has broadened its product platform even further through the combination of its core MVX platform and Mandiant's real-time monitoring of two million endpoints.
Investors should be bullish on FireEye due to its market leading technology, overall product strength, and relatively large addressable market opportunities.  Additionally, the company's strategy is to become a next generation security platform, and an investment in the company should be a core holding for investors seeking exposure to the security theme.
FireEye is a first mover in a relatively new market, offering a unique value proposition and significant technology leadership.  The company's business exhibits a combination of high growth, long contract durations, rich software mix, and high renewal rates.