Markets
Facebook Is Looking to Maximize Revenue from Video Ads with LiveRail
Facebook (NASDAQ:FB) FB +1.17% announced that it is bidding to acquire the online video advertisement technology platform LiveRail. Even though the financial terms of the deal are yet to be disclosed by either Facebook or LIveRail officials, industry analysts closed to these two companies mentioned the value of the deal may reach up to $500 million. Founded in 2007, LiveRail offers a comprehensive platform for online video publishers to find and serve the best possible advertisements.
Facebook's Vice President of Ad Product Marketing, Brian Boland, mentioned about the probability of the acquisition of LiveRail in a statement that "Today we're announcing that we have agreed to acquire LiveRail, an advertising technology company that helps companies like Major League Baseball (MLB.com), ABC Family, A&E Networks, Gannett, and Dailymotion serve better ads in the videos that appear on their websites and apps." "We believe that LiveRail, Facebook and the premium publishers it serves have an opportunity to make video ads better and more relevant for the hundreds of millions of people who watch digital video every month," he added.
In contrast, LiveRail may had plans of its own to issue an IPO by the end of this year. However, LiveRail's Chief Operating Officer, Mark Trefgarne, mentioned in a blog post "We realized that by joining forces we'd be able to draw upon our respective strengths to move even faster towards our shared vision of creating the advertising platform of the future."
Since the start of 2014, Facebook's (NASDAQ:FB) FB +1.17% year-to-date quarterly revenue has fallen by 3.25 percent. The company has been facing difficulty maintaining interest of its key target demographic segment, the teenagers in recent times that contributed to the stagnate revenue stream of the company. In the second quarter of 2014, Facebook only registered $2.5 billion in revenue.
There is further concern regarding Facebook's operating profit. Although the social media giant has increased its net profit by 24.9 percent since the start of 2014, its operating profit has declined by 5.04 percent. Since operating profit measures the performance of the core business, investors should be worried about the underlying business model.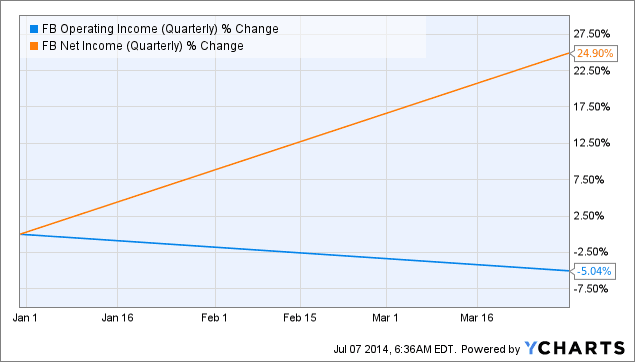 In the midst of a slowdown in growth, Facebook is trying to expand its operational revenue stream by tightly integrating video advertisements on its user-generated content. The acquisition of LiveRail further indicates Facebook's intention in this direction.