Technology
Europe votes in favor of banning data roaming charges across EU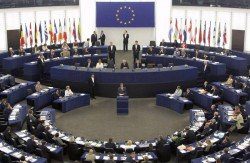 The European Parliament has taken another stab at data roaming charges, this time eradicating them altogether, allowing a European traveling from one country to another in the EU to be charged the same amount as they would in their home country for using data.
Telecom industries have been hit hard by European legislation in the past surrounding data charges, with regulations stopping excessive charges two years ago on mobile bills. The European Parliament has since added two new data caps onto the roaming charges to make sure people are not affected too much by the bills.
This new move will not take effect until the 15th of December next year, even though the package was adopted by 534 votes to 25. European governments still need to agree to the ban of roaming charges in their country and we could see pressure applied by telecom companies to make sure certain countries keep data charges.
The banning of data roaming charges comes at a time in Europe where most countries are just starting to get 4G LTE standard, instead of as a premium from 3G. This means more data is being consumed on a regular basis, 10 times as much with the increase in speed from 3G to 4G.
According to a report from the European Commission, 94 percent of all mobile phone users in Europe lower their usage in other countries and stick to the lowest costs possible when going on holiday, even looking at pay-phones and Internet cafes as ways to escape the large mobile data charges.
UK and other European carriers have started offering deals for people going on holiday, including bundled data plans when you arrive in another country. 02, Vodafone, and some other UK carriers even message when over the limit, making sure the user does not use any more data while on holiday.
This is the first aggressive move to destroy data roaming charges, but we wonder how the carriers will work against this new rule from the European Parliament. It may be possible for the carriers to simply not offer data outside of the country, but this would mean they would lose money while the users are on holiday.