US
Disney's "The Lone Ranger" struggled through the July fourth weekend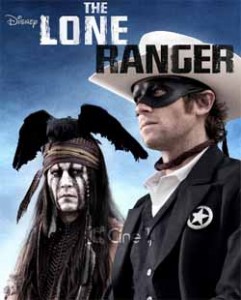 In a negative review of Disney's The Lone Ranger, Allison Samuels criticized stereotypes she believes America should have outgrown by now. She concludes saying, "Five years after the election of the first black American president, you'd think Hollywood would be a bit more thoughtful about the stories it green-lights." And she's not alone in this opinion.
The movie, directed by Gore Verbinski, struggled through the July fourth weekend, brining in only $9.6M Wednesday and $9.7M Thursday. Costing a whopping $225 million to produce, The Lone Ranger is expected to take in $45-50 million during its five-day debut.
Competing this weekend with Despicable Me 2, which brought in $34.3 million Wednesday alone, did not do any favors for Johnny Depp's most recent film. Competition aside, the overwhelming response to The Lone Ranger has been disappointment in the handling of Native American themes.
Granted, the Tonto of this 2013 production boasts much more deep human characteristics than the same character in the 1930s radio show and 1950s TV series. In that era, there wasn't much effort made in portraying realistic minority characters, and The Lone Ranger was no exception.
Arguably, Verbinski's production didn't make the greatest effort either. For one, Depp is a white actor cast as the Comanche character. Samuels declared in her review that "If he'd really wanted to give hope to Native American youth, he would have declined the role and suggested that a Native American actor be cast as Tonto."
Britt Peterson, on the other hand, comes to The Lone Ranger's defense in a Boston Globe feature on the Comanche language in the new movie. Citing Todd McDaniels, a linguist at the Comanche National College, she points out Depp's attempts at speaking the Comanche language, noting he didn't do a terrible job.
Historically, Hollywood has not gone out of their way to accurately portray Native Americans or their languages in film. In old roles, the speech of the Native Americans consisted largely of grunting and gibberish. The attempt, albeit small, in Verbinski's The Lone Ranger to utilize the actual Comanche language is one way in which the movie does seem to be making progress since the original radio and TV series.
While the roots of this longstanding entertainment icon are in a different time, it's now 2013. Just because it was expected for radio and TV series to perpetuate stereotypes doesn't mean it was right even then. With all the progress toward equality in the decades since the Lone Ranger and Tonto first made their debut, it looks like reviewers had hoped Hollywood would follow suit.