Business
'Despicable Me 2' Performs within Expectations at the US Box-Office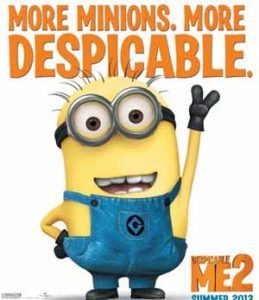 Universal Pictures and Illumination Entertainment's 'Despicable Me 2' has started proving that it is a box office monster that it is expected to be. On Wednesday (July 3), the movie earned a whopping $34 million, including a $4.7 million gross from Tuesday night advance screenings.
If the momentum is kept, it could easily top the $56 million gross generated by its prequel's weekend opening in 2010. By Friday, the movie would have already topped the overall budget for producing it in North American earnings alone. Movie analysts think that opening day ticket sales could indicate that moviegoers were not able to wait until weekend to catch the talked about sequel. Viewers could have taken advantage of the Fourth of July holiday to relax and check out movie offerings.
Thus, the 3D animated film is on course for a potential five-day debut with earnings that may range from $136 million to $153 million. Taking a more conservative outlook, the movie is likely to gross at least $119 million from Wednesday to Sunday (July 3 to July 7). A few days before the North American opening, the film was predicted to earn about $114 million in the first five days. It is currently being shown in 3,956 theaters across the country.
Before its release, high hopes were already set for 'Despicable Me 2.' First, the animated flick only incurred $76 million in overall production costs. That means that by this time, the producers have already generated profits. It can be inferred that future earnings from tomorrow onwards can be accounted as actual and additional profits. Second, this sequel is expected to at least double the overall gross of $543 million generated by the original 'Despicable Me.'
Earlier this week, one of the logical signs that the movie would perform strongly in the US was its impressive box-office performance in the UK. It earned a record $22.9 million during the weekend exhibition at British theaters. It was the first time for Universal Studios to have a No. 1 film in that country in terms of weekend gross earnings.
The movie ranked No. 4 in terms of overall international earnings last weekend. It grossed a total of $50 million from seven territories (the UK, Australia, Switzerland, Sweden, Taiwan, Belgium, and the Netherlands) on Saturday and Sunday. It trailed behind leaders in the recent weeks, namely 'Monsters University,' 'Man of Steel,' and 'World War Z.' All three competing movies have been exhibiting for several weeks now in more countries around the globe.