Business
Despicable Me 2 Easily Overshadows 'The Lone Ranger' at US Box Office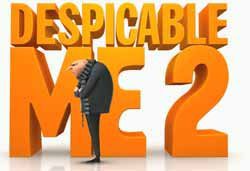 As expected, 'Despicable Me 2' effortlessly ruled the Fourth of July holiday weekend at the US box office. The 3D animated sequel earned $82.5 million in movie ticket sales from Friday to Sunday. Over the five-day holiday weekend (from Wednesday to Sunday), the film grossed about $142.1 million.
That means the movie has easily achieved its profitability level. Producer Illumination Entertainment has so much to rave about. 'Despicable Me 2,' distributed by Universal Pictures, cost only a lean $76 million to produce. Over the recent weekend alone, it has already made profits. Over the course of its theatrical runs, it is estimated to gross more or less $1 billion.
In 2010, its predecessor 'Despicable Me' grossed $251.5 million in North America alone. Globally, it earned a total of $543 million. Its weekend debut performance was also strong after it made $56.4 million. Now, no one seems to doubt about the sequel's potential to more than double the prequel's box office success.
Strong debut
'Despicable Me 2' also debuted in more foreign markets last weekend. To date, it currently plays in theaters in 45 countries worldwide. It has now grossed about $151.1 million in markets outside North America. It easily ranked No. 1 in 36 out of 38 markets where it made a debut last weekend.
In comparison, Walt Disney Studio's 'The Lone Ranger,' which competed head on with 'Despicable Me 2' over the recent holiday weekend, was a box-office tragedy. Last weekend, the movie grossed $29.4 million. From Wednesday to Sunday, its total ticket sales were at $48.94 million.
'The Lone Ranger' spells tragedy
The adventure movie has been earning at a dismal pace. That is because the film is a highly budgeted one, after its producer spent about $225 million for its entire production. With such a huge cost, Walt Disney is logically aiming to at least make a little profit from the venture. Hopefully, on its entire theatrical run, the movie could be able to at least make a breakeven from its expenditures.
Apparently, it did not help that 'The Lone Ranger' was marketed as somehow a glorified sequel to lead star Johnny Depp's successful 'Pirates of the Carribean' series of movies. Internationally, this film debuted in 24 foreign markets last weekend, including Australia and Russia. It grossed only $24.3 million from global weekend movie ticket sales. It certainly did not help that initial reviews for the movie were somehow discouraging.