Technology
Day-Z will become multi-platform title, says creator Dean Hall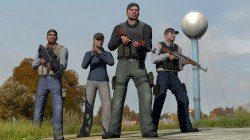 Sony was the first to announce that Day-Z would be coming to the PS4, and we have yet to hear anything on the Xbox One version. Thankfully, the creator of Day-Z, Dean Hall, has answered the question of if Microsoft fans will be able to play the zombie survival game.
At EGX earlier this week, Hall answered, "DayZ is definitely going to be a multi-platform title – that's the firm vision from Bohemia's standpoint. But we'll announce what all the other platforms are as we get to that point."
Hall did not confirm any of these platforms, stating only that it would be a cross-platform experience. Instead, he focused on the topic of Early Access and how more publishers and distributors were looking into this system of releasing games.
This hints at Day-Z coming to PS4 and Xbox One as a beta project. This would put the development time at over a year for the standalone version.
The development cycle has been hindered due to developers being in prison and Dean Hall regularly dropping in and out of the project. Quite like Minecraft creator Notch, Hall has a weird personality that oftentimes takes his focus away from Day-Z and into other smaller projects.
Day-Z continues to have a lot of players on Steam. Some have credited it as a walking simulator due to the lackluster amount of actual zombie encounters that make it more about people and power on servers.
We cannot wait to see how the community changes on the next-gen consoles. Will we see the same sort of functions as on the PC, or will Bohemia change the structure of how Day-Z is meant to be played?