Politics
Congressman places blame for military death benefits fiasco on Obama's head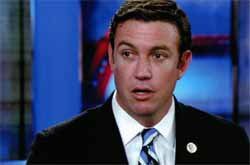 Not only was Barack Obama a key element of the fiasco this week that resulted from families of fallen soldiers being denied US military death benefits, he was also using it for political advantage, according to a member of California's delegation to the US House of Representatives.
The blunt comments came from Rep. Duncan Hunter, R- Calif. during a Fox News interview.
"The president of the United States … could have fixed this with a pen stroke about nine days ago, or whenever they found out," Hunter said.
"He didn't do it … He used our military families as pawns."
Hunter's sharp condemnation is in response to a situation that occurred after it was discovered that the Department of Defense refused to pay out an estimated $100,000 death benefit payments that are paid to families of fallen US soldiers for travel, funeral arrangements and other items.
The refusal to pay out the money came despite Congress, in a rare moment of bipartisanship where Democrats compromised with Republicans, approved a bill that would continue to fund the military during the government shutdown.
Despite Congress approving funding for military pay and allowances for the military, and the law being signed by Obama, the military than turned and refused to pay the death benefits to soldier's families arguing the benefits were not included as part of the Congressional authorization.
However, there is no indication that Pentagon officials at any time attempted to reach out to lawmakers and clarify whether such authorization was indeed granted or intended in the legislation. Instead, it appears that lawyers with the Pentagon stated that they did not believe the language allowed for the paying of the benefits.
This outraged members of Congress who said that if there was any doubt, attorneys should have either erred on the side of the families or at the very least actually asked lawmakers for clarification.
According to Hunter the claims that the bill did not authorize providing the death benefits are outrageous and that any reasonable understanding of the bill would make it clear the benefits were intended to be included.
"At some point in the Department of Defense somebody looked somebody else in the eye, and said, 'Do not give these families the death benefits,'" he said.
"There might have been some ambiguity and the lawyers could argue over it, but [Secretary of Defense] Chuck Hagel, the president of the United States need to have the moral fortitude to pay these guys."
Despite this, he said he believed the "most likely" legal interpretation would have led someone to conclude the death benefits were intended to be concluded because the bill specifically mentions pay and allowances, which would include the benefits.
While the issue has since been resolved, the White House has refused to reveal exactly when Obama became aware the government was not paying the benefits before he decided to act upon it.